 Star reveals he turned down two offers from IPL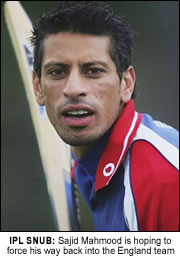 SAJID Mahmood has revealed he turned down two approaches to play in the Indian Premier League.
The Lancashire bowler said he snubbed the offers so he could focus on forcing his way back into the England side despite being overlooked since January 2007.  
The England Cricket Board has advised its players against joining the lucrative Twenty20 tournament threatening players with expulsion from the England set-up if they take up an offer.
Speaking to BBC Sport 26-year-old Mahmood said his main aim was to get back into the England side.
"I've had offers to join the IPL but I'm desperate to work my way back into the England side," he said. "That's the reason why I got into cricket in the first place and the desire is still burning brightly.
"I'm only 26, I've got a lot of years ahead of me in the game, and it would be great to spend those years representing my country and taking wickets.
"However, if things don't work out in that regard, the IPL is a massive draw. There is a hell of a lot of money on offer out there and a cricketer's career is a short one.
"There's not much I or anyone can really do at the moment, though, with the way things are.
"My aim is by the end of this year, three-quarters into the season, to be back in the England side. If not then I can start having a chat and see about looking at my options."