 Daredevil returns from Mount Everest trek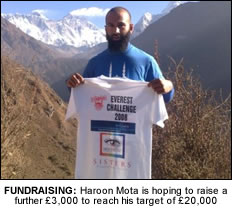 A COVENTRY man who has just returned from a gruelling trek to Mount Everest is hoping the spirit of 'giving' this Christmas will help him reach his fundraising target.
Council worker Haroon Mota spent two weeks trekking to Mount Everest basecamp in a bid to raise £20,000 for orphaned children.
Having already raised a staggering £17,000, Haroon is just £3,000 away from the target he set himself earlier this year – and he is hoping Asian Today readers will help him reach his fundraising summit.
Speaking about his two week trek Haroon admitted it was the most "toughest mental and physical challenge" he has ever encountered.
"Despite the headaches, the altitude sickness, the extreme cold at night and the loss of 2 members of our team, I constantly reminded myself why I was there; raising money for the orphans and this motivation certainly paid off," he said.
"After ten hard days of trekking, I reached Mount Everest Basecamp where I stood proud at 18,000 feet. It was the best feeling ever, but shortly, reality reminded me that in a few days time my challenge would be complete and I would return home to a life of luxury, whilst the challenge of survival for these orphans continue."
Haroon still needs £3,000 to reach his £20,000 target and is calling on businesses and individuals to help.
Related Articles: