Muslims across the world are celebrating Eid, marking the end of the holy month of Ramadan.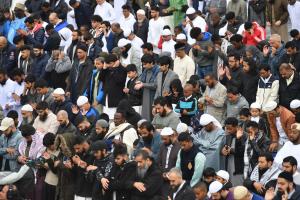 Over 100,000 gathered on Tuesday 4 June in Small Heath Park for prayer.
Last year, 140,000 people attended the event, according to organisers, expected a similarly turn out.
The event, hosted by Green Lane Masjid and Community Centre, is now in its eighth year and has seen growing numbers since 2012.
Ramadan is the holiest month in the Muslim calendar, where Muslims focus on personal reflection and prayer through three types of worship: charity, prayer and fasting.