 Triple title bonanza in showpiece event
KASH 'The Flash' Gill is one of Birmingham's most well known kickboxing stars.
Having carved himself out a career in the sport from an early age he was champion at the age of 21 – a winning belief he has instilled in the hundreds of young aspiring kickboxers who visit his city gym on a weekly basis.
Today Kash has become a solid and positive influence to other kids from less fortunate backgrounds like himself who strive to make something of themselves.
"When I was young all I wanted to do was become the champion of the world and for people to know I was the best fighter out there", Kash reveals.
"Now that I'm older and wiser [Kash grins] I really feel like I want to pass on my knowledge and help others to achieve their full potential."
Kash is also a front runner in promoting the sport across the country and next month for the first time he will present a star-studded night of excitement and entertainment at Birmingham's popular night spot 'The Q Club' as fighters gear up for a marathon event in which three world title's will be up for grabs.
Two of Kash's protégés have taken Kash's winning mentality to heart and will feature in the showpiece next month.
Two times world champion already, Sunny 'The Hitman' Hira, will make a bid to become the undisputed world champion.
Having started training with Kash at the young age of ten, Sunny has been one of 'The Flash's' most loyal students. A solid grounding in the basic techniques of the sport has given Sunny the foundation to become one of today's most skilful and dangerous fighters.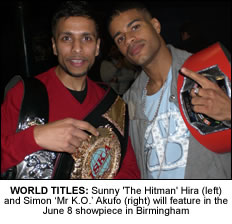 Birmingham's very own 'Hitman' will now challenge for his third world title in less than 2 years. This is heralded by many as his most significant fight to date. His opponent, undefeated Latvian, Aleksandra Alajevs is well known as a brutal puncher with relentless intent. Sunny, however seems to take it all in his stride.
"After 15 years of hard work and dedication it's all finally starting to pay off", Sunny said.
"To become two times world champion was more than I ever dared hope for but to have a chance to become the undisputed featherweight champion of the world – it's a dream come true."
Kash's second protégé is European welterweight champion, Simon 'Mr K.O.' Akufo who will take a step up in class when he challenges for his first world title.
Simon joined the flash fold a lot later than most, and after an extremely tough losing pro debut at the age of 21, Simon went on to dedicate himself to the sport in a way that few ever have.
He is now considered one of the hardest working fighters in the world today, making him one of the fittest as a result. Often running as much as 350 miles in training for each fight he is no stranger to the gym and his hardcore attitude has earned him the nickname of 'The Machine' amongst his peers.
'Mr K.O.' will now move up a level and onto the world stage at the June 8 super show, when he challenges reigning, defending world champion, Jason Vassallo over 12 two minute rounds.
"Jason is a top ranked fighter around the globe, and to have the opportunity to take his world title and world ranking is too good to miss", Simon said.
"The WKA title is one of the most prestigious and I am grateful to Kash for getting me a shot like this. "It will go a long way towards proving my belief that I am the best welterweight in the world."
For Kash, the goal isn't just about winning.
"These guys are just another example of how a strong sense of direction and a positive role model like myself, can help kids from bad neighbourhoods to achieve so much more."
To find your nearest ticket retailer for the June 8 event please call Kash on 07973 421 690.
Sponsorship opportunities are still available for this event. Interested parties should also contact Kash Gill.