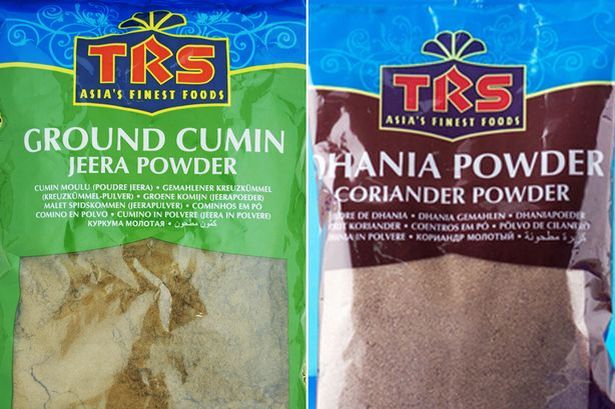 The product recall requests the return of:
TRS Jeera Powder, batch number P353340, 100g pack labelled best before December 31, 2017

TRS Dhania Powder, batch number A481514, 100g pack labelled best before end of December, 2017.
Popular South-Asian brand TRS have urged customers to return particular batches of cumin and coriander powders in light of a recent Salmonella scare.
The well-established company, based in Southall, will be displaying point-of-sale notices noticed in all stores, informing customers as to why products are being recalled and what to do in the product in question has been purchased.
Steven Sowerby, head of operations at TRS Wholesale Limited, said: "TRS would like to reassure all customers that we are fully committed to supplying top quality and safe products conforming to all UK food regulations.
"The two products in question were packed at reputed facilities in India and the goods tested by the Spice Board of India for conformity with European regulations prior to shipment.
"On receipt in UK the goods were again tested at reputed UK laboratory and all results showed the absence of salmonella."
Salmonella, a bacterium that can cause severe food poisoning can lead to diarrhoea, fever and abdominal cramps.
Symptoms develop between 12 to 72 hours after consuming contaminated foods and usually lasting four to seven days. In extreme cases, diarrhoea and dehydration may be so severe that hospital treatment is required.
Mr Sowerby added: "As salmonella is not present in a homogeneous manner, as a further precaution the packets carry a usage instruction stating 'Do not consume uncooked'.
"Testing in these two batches found two packets of Jeera powder and one packet of Dhania powder to be contaminated with salmonella.
"These two batches have been withdrawn from sale and the outlets who purchased these batches advised to withdraw the same.
"No other batches are affected.
"It should be noted that, to date, no complaints have been received from customers and the problem was raised as part of a routine sampling."
Its no the first time that TRS have had Salmonella scares. In December 2007, the company recalled a batch of sesame seeds due to the presence of the same bacterium.