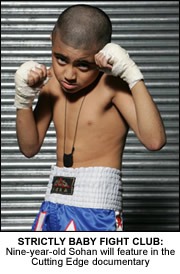 FOR Nine-year-old Sohan competing in martial arts has had a lot of rewards.
Bullied at school because of his severe eczema, Sohan has managed to fight his way past his tormentors and emerge a fighter.
The youngster will feature in Channel 4's controversial Cutting Edge documentary later this week as it offers a rare insight into the new child phenomenon – Thai boxing.
Unbeknown to many, child Thai boxing has risen to near extraordinary proportions over the last few years with the UK hosting over 500 registered clubs teaching the sport.
Children as young as four or five are becoming the latest recruits to organised fighting, where some people's attitude is: "If you're good enough to fight, you're old enough".
The Cutting Edge documentary will take a look at the competitive and sometimes obsessive worlds of four families who are investing everything into training their kids to be the best young fighters in Britain.
Despite being relatively new to the sport Sohan's father, Majhid has high hopes for his young son.
"Sohan is living the life I should have had", says car parts factory worker Majhid. "I have always wanted to be the best. I've always wanted to be a champ, wanted people to look at me and say there's the champ. But it's as good as they saying it to my son as saying it to me."
For mum, Nazheen, it's a nerve-racking and uncomfortable experience as she watches her son fight for the first time.
But both parents feel that Thai boxing has been the making of their son as it has helped him over come bullying at school for the severe eczema he was born with – which has also cleared up since he took up the sport.
The documentary will also follow four other primary school children – Miah and her twin brother Kian, Thai and Connor.
Strictly Baby Fight Club will be shown on Channel 4 at 9pm on Thursday.