 Vikash Dhorasoo documents his 2006 World Cup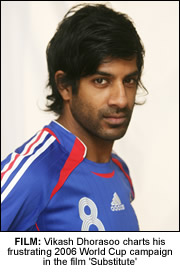 VIKASH Dhorasoo, the first South Asian to ever reach the FIFA World Cup tournament is releasing his widely talked about film, Substitute in select cinemas across the UK next month.
Shot completely by Dhorasoo and the director, Fred Poulet, the film documents the footballer's lonely journey through World Cup 2006 in Germany, as he struggles to find a place on the French team. Playing an integral role in every match of the qualifying rounds leading up to the World Cup, Dhorasoo found himself relegated to the bench during the entire tournament, making only brief appearances against Switzerland and South Korea.

Dhorasoo, a former AC Milan and Paris St-Germain player, is shockingly candid in his dialogue, from his feelings of betrayal by French coach, Raymond Domenech, to his growing frustration of being isolated from the action. "My World Cup, what is it? It's my room and poker games," Dhorasoo declares.

This sense of alienation is evident throughout the film and is further conveyed through the raw style in which it has been shot and edited. Even in a pre-tournament friendly against Mexico when Dhorasoo is brought on for Zidane, a chorus of boos and hisses ensue from the crowd. He tries to rationalise: "I'm the guy stealing someone else's place and I'm the guy replacing Zidane. Everyone expected Ribery, someone else than me."

In a defining moment, as the French side pour onto the pitch to celebrate their victory over Portugal in the semi-finals, we see Dhorasoo's solitary figure shunned by his team-mates, as he walks away awkwardly without so much as a smile or a pat on the back.

Dhorasoo still has to keep up the pretences of wanting to be there and tries to convince himself that he is part of the team, despite the fact that he has been excluded almost every step of the way to become more of a spectator than a player.

"I'm not playing for my career, nor for my place on the team since I'm on it. I just would like to get some more playtime. I'd like to please those who want me to play. In my career, I played to save my ass. I played to get a deal. But this isn't what it's all about. I wouldn't feel right if they stole my World Cup from me."
Substitute, directed by Fred Poulet, is being released in select cinemas in London, Birmingham, Manchester and Leicester from May 9th.