BYSA end the year with a fun action packed match day package with The Albion Foundation at West Bromwich Albion FC on News Years Eve.
The Project consist of 80 boys and 40 girls taking part along with the volunteers and sponsors attending to see the great work that BYSA do for the community, in total 150 took part in this project.
The day started with a Stadium Tour then on to a hour and a half training session at the indoor DOME by the Albion foundation coaches, thereafter a special appearance by West Bromwich first team player Jake Livermore (Midfielder) who came spoke to the kids and took photos. Lunch was provided and then we set off to the ground to get seated and watch a live premiership match against West Bromwich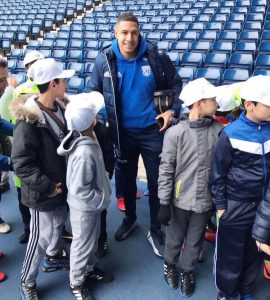 Albion FC v Arsenal FC, the atmosphere was amazing but to top it off 16 of the BYSA squad players were selected to be flag bearers and standing on the main pitch in front of thousands of people "it was amazing" they said seeing the players up close and personal and the fans cheering very loud, "what an experience this was".
The response from the kids was that they never seen a professional player before, never attended a football match before and haven't been out of their local areas to experience this type of project that the BYSA have put together. Mr Anwar Khattak BEM said: "We at the BYSA have done many projects with clubs over the years and have to say this visit to the Hawthorns will be remembered for a very long time having the special appearance of Jake Livermore and being flag bearers this in itself was a true footballing experience.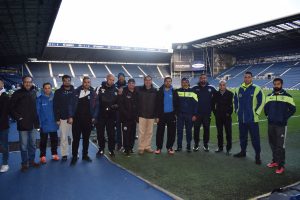 "We would like people to get involved and support a worthy cause and projects that are carefully designed to fulfil the children's needs and the community. Please follow us on social media which will explain further about our work since 2002 and the journey we have been through, if you like to become an ambassador or sponsor please get in contact with Mr Anwar Khattak BEM on 07890 695 284.
"Finally like to thank all our sponsors, ambassadors, volunteers, partners, supporters, special guests and the members that attended the BYSA project and wish you a happy New year and look forward to seeing you in 2018".