 Investigation into Mohammed Patel 'largest of its kind in the country'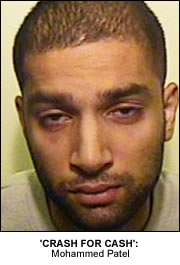 A BOLTON man who masterminded a 'crash for cash' scam in which he netted £46,000 has been ordered to pay backjust £1.
Mohammed Patel, 25, was jailed for four and a half years last year after admitting a three-year conspiracy to defraud insurance companies.
He was behind at least 93 forced collisions between 2005 and 2008.
Despite making £46,000 from the scam he was ordered to pay back just £1 after Manchester Minshull Street Crown Court heard he had no assets.
His girlfriend, Ettorina Hay, 20, was ordered to pay back £12,953.
Police described the investigation into Patel as one of the 'largest of its kind in the country'.
Patel deliberately caused collisions for whichever client was willing to give up his car keys and insurance details.

He would be paid a fee while the claimants demanded compensation for personal injury, courtesy cars and legal fees at the expense of the other party's insurers. 
Patel used the money to fund a lavish lifestyle which included driving a Lincoln Navigator and Mercedes C 180, and enjoying numerous holidays abroad.
Sergeant Mark Beales, from the Specialist Operations Branch, who has led the police investigation said: "Hay had her suspicions over Patel always having large sums of cash at his disposal, yet she took it regardless. She turned a blind eye to where it came from.

"She no doubt benefited significantly from Patel's criminality and now the justice system is taking money back for victims of crime.