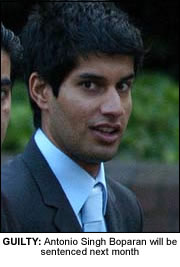 THE SON of a millionaire Midlands couple has been found guilty of dangerous driving at Birmingham Crown Court following a three car accident which left a baby fighting for her life.
Antonio Singh Boparan pleaded not guilty but was convicted of dangerous driving after a five day jury trial. He will be sentenced in a month's time.

After the verdict, members of the jury wept after being shown photographs of the seriously injured baby which had been hidden from them during the trial.

The court was told how in November 2006, Boparan, of Roman Road, Little Aston, had been driving in Streetly Lane, Sutton Coldfield at speeds in excess of 70 mph.
Boparan was driving his mother's high powered Range Rover Sport when he collided with another vehicle, injuring six people.

The jury was told how Boparan, who passed his driving test just six months prior to the incident, sped down Streetly Lane overtaking an unidentified car before reaching the junction with Crown Lane where witness Eileen Fluckiger was waiting to emerge.
Ms Fluckiger testified at trial that when she pulled out, Boparan's car was a safe distance away, however, after completing her turn she realised the Range Rover was overtaking her.
A second witness, Katie Durbar, had to brake her Mini to avoid Boparan as he overtook a vehicle and pulled back in front of her. She told the court she knew there would be an accident because the Range Rover was wobbling and seemed out of control. Both women then saw the vehicle collide head-on with a Jeep driven by Tracy Edwards, who had her husband Gareth and baby Cerys as passengers.
Cerys Edwards, then aged one, was strapped into a child seat in the rear of the Jeep and suffered the most catastrophic injuries of those involved in the crash. She has been left brain damaged, paralysed and unable to breathe without a ventilator. She remained in hospital and for the last 9 months has been receiving specialist rehabilitation treatment in Surrey.  Her parents also sustained serious injuries.
Judge Frank Chapman, the Recorder of Birmingham granted bail to Boparan on condition that his father provides a £1 million surety and that he surrender his passport, start an immediate disqualification from driving, and observe a night-time curfew. He told the defendant he would face a prison sentence towards the top end of the 2 year maximum allowed.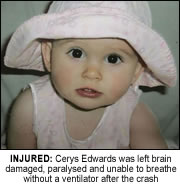 Following the verdict Gareth Edwards said: "We weren't allowed to tell the jury how this man has destroyed ours and Cerys' lives. The law protects him in case the jury is influenced by knowing what he did to our daughter. Whatever sentence he receives will be inadequate because the law only recognises causing death by dangerous driving as serious. Cerys has survived and the doctors describe that as a miracle, but she can only do so with artificial breathing.  I believe the maximum sentence of two years is absurdly lenient for what he did." 
The defendant's parents Baljinder and Ranjit Boparan own the West Bromwich based Two Sisters Food Group, which owns the Buxted chicken brand. They were recently placed sixth in the regions' Rich List of entrepreneurs with a £130 million fortune based on business with an annual turnover of £100 million, supplying chicken products to Tesco and Marks & Spencer.