 Bowler accuses board of 'unfair treatment'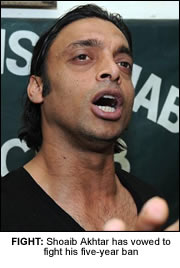 SHOAIB Akhtar has vowed to fight the five-year ban handed down on him by the Pakistan Cricket Board.
The bowler, banned earlier this week for violating the player's code of conduct for criticising the board over the issue of central contracts, said if his appeal was rejected he would take his case to the High Court in Pakistan.
Akhtar, one of Pakistani's most controversial players, was warned of his future conduct after being put on a two-year probationary period after striking teammate Mohammed Asif with a bat last year.
The final straw for the PCB came after Akhtar publicly criticised the board over their refusal to offer him a central contract at the end of last year.
Handing down the five-year ban, PCB Chief Nasim Ashraf said the board had "lost confidence" in the star player.
"[We] felt his presence in the field was damaging to the Pakistan team, for Pakistan players and for the image of Pakistan cricket", Ashraf told AFP as news of the ban broke.
Ashraf added: "[It is] a sad day for me and for Shoaib Akhtar. He is such a talented player."
But the player, once a driving force for Pakistan, said he would fight the ban accusing the PCB of victimising him.
"I have been victimised and targeted but it is not for the first time in my career. There have been people on the PCB who have wanted to finish me and they saw this as their chance", Akhtar wrote in his column on Bigstarcricket.com.
"I maintain that I am not going down without a fight, like I had to fight with my doping case and even that was not handled correctly. I will certainly be appealing, I have a right to do that much.
"If the PCB do not relent then I will have no choice but to go to court. This is not exactly a fine we are talking about here, this is my career.
"I have put a great deal of loyalty in the Pakistan team, the Pakistan Cricket Board and my country. Probably the best example is that I have twice rejected very generous offers from the good people at the Indian Cricket League, and not because of the money they offered me but because I want to play cricket for my country. Now the PCB are telling me I cannot. We will see about that."
Akhtar was dealt a further blow after the Indian Premier League revealed it would not allow Akhtar to participate in the tournament in light of the ban.
Although the ban stops Akhtar from participating in domestic cricket in Pakistan and for the national team, home and away, it was thought he be free to participate in the tournament later this month.
But Bindra, a member of the IPL governing council said unless Akhtar is successful in his appeal he will not play any part in the IPL.
"Shoaib has been banned by the Pakistan Cricket Board, and even though they have cleared him to play for IPL, we felt that international discipline needs to be respected," Mr Bindra told Cricinfo. "If he can't play for Pakistan, how can we play him? There will be no discipline left in the game, if we play him. It will set an unwanted precedent.
"We [the IPL] want to be part of the international system, not operate outside it. If somebody is banned on disciplinary grounds, that is a serious offence, and we felt it would be very odd if he was to play in IPL."