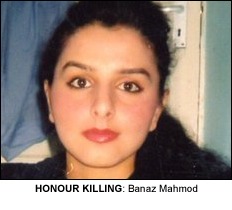 TWO Metropolitan Police Officers are to face a disciplinary panel following their failures over the murder of a 20-year-old woman killed by her father and uncle in an honour killing.
An Independent Police Complaints commission criticised the handling of complaints by the Metropolitan Police and West Midlands Police made by Banaz Mahmod about her family.
She had contacted officers four times naming a number of men she alleged would kill her.
Her body was found buried in a suitcase in a Birmingham garden – three months after she went missing from her home in in Mitcham, south London in January 2006.
Ms Mahmod's father and uncle were convicted of murder in June 2007 following a trial at the Old Bailey.
The IPCC confirmed two Metropolitan Police officers – a police constable and an inspector – will now face a disciplinary panel. In addition four Metropolitan Police Officers and two West Midlands detectives will receive written warnings and one Met constable will receive words of advice in relation to another incident.
The investigation found that while officers had "acted appropriately and shown compassion and willingness to deal with the matters reported", Ms Mahmod had been "let down" by officers from both forces over two particular incidents.
On 14 September Ms Mahmod made allegations of historic physical and sexual assault to the Met – yet contact was not made with her until 22 September at which time officers passed the incident to West Midlands Police.
A West Midlands Police officer took over the investigation on 28 September and spoke with Ms Mahmod the following day to arrange a date for an interview to take place. This happened on 10 October. However, it was not until 10 January 2006 that contact was made with Ms Mahmod to get her to sign the statement.
The IPCC investigation determined that the Met "|could have done more in its dealings with Ms Mahmod, lines of inquiry were not followed and there was poor supervision."
The IPCC also slammed West Midlands Police saying their investigation was "flawed, not done in a timely fashion and poorly supervised".
In the second incident on 31 December 2005, Ms Mahmod had entered a café in a distressed state and paramedics and police officers were called to deal with the incident.
The IPCC investigation concluded that the actions of a police constable in dealing with this incident, and those of a supervising inspector, "fell below the required standard".
Both will now appear before a disciplinary panel to account for their actions.
Nicola Williams, IPCC Commissioner, said: "Banaz Mahmod was a young woman who lost her life in terrible circumstances.
"[In] relation to two incidents we have found that Banaz Mahmod was let down by the service she received. There were delays in investigations, poor supervision, a lack of understanding and insensitivity. In relation to what we believe to be the worst failings – the way MPS officers dealt with Ms Mahmod on 31 December 2006 – we believe it is entirely appropriate for two officers to face a disciplinary panel."