 Interview by Sunny Sahota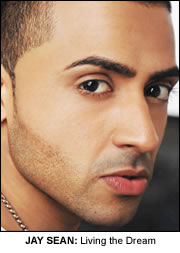 IN football we have Zesh Rayman and Harpal Singh and the musical equivalent of them is Jay Sean, a 26 year old who through hard work, grit and determination has carved out a very successful music career in a profession that has a real lack of Asian representation.
Jay Sean is an Asian music sensation who is blowing the UK music charts apart with his innovative album My Way. The Hounslow raised starlet can only be described as pioneering as he manages to produce a whole new meaning to urban music. With his roots firmly embedded in his Indian background, Jay has managed to infuse Asian sounds with a mixture of musical genres of Hip Hop, Rap and soulful R&B in a lethal cocktail that even 007 wouldn't care if shaken or stirred as it goes down a treat.
His success has given the Asian youth culture a real icon which shows that you can be successful in a career that sits outside from the traditional tried and tested 'respectable' professions that a number of 3rd generation Asians impose on their children that finance, business and medicine = success.
Jay's success can be applied to the football environment which like music has a need to bring more Asians into its realm and to truly reflect today's British society of a very multi-cultural melting pot of cultures. However there are still some barriers which need to be broken and traditional points of views about Asians which need to be reversed.
Jay Sean took time out of his busy schedule to talk to Sunny Sahota about Asians in football and his own journey in an industry which like football has a need for more Asian representation.
How did you get into Music?
From since I can remember I have had a passion for music. As a teenager music was my hobby as I would sing and perform for my family and friends at any given moment. You could say it was my 'academy period' before turning pro, as when I turned 21 I got signed to a major record label which was a real turning point in changing my hobby into my full time career. 
Did you find it difficult as an Asian kid trying to breakthrough into a profession where Asians are not visible?
Yes, I have faced a number of obstacles in the industry as many saw me as a 'novelty' the Asian guy doing music and frequent attention was given to my race rather than my talent as an artist.  It was hard to try and break traditional stereotypes about Asians and try to show that these stereotypes are not valid in this day and age.
I represent the emergence of the east meets west culture – a more westernised Asian community which was sometimes hard to communicate.
Did you have a lot of support from your family/Friends to pursue your music ambitions?
Yes I have had a lot of support from both my family and friends who have stuck by me from the start and are still as supportive now.
What is your view on the current lack of Asians in the professional game of football?
Without a doubt the involvement of ethnic minorities within football has come a long way in recent times. Despite this there is still much to do, into bringing more Asian communities into the sport. Obviously there needs to be a more representation of the Asian community in the game to represent the wider community.
How do you think that things can improve to get more Asians into the professional game?
I feel that kids need to be encouraged more at a younger age to get involved in the game. I feel there needs to be more figures around Asian kids that show them that they can make it in a profession outside the traditional norms. If they have the talent and the motivation they can make it, like me!
What advice would you give Asian youngsters wanting to break into professional football?
Stay focused and keep motivated. Practice all the time and you will achieve your goal.
If you could describe yourself as a footballer who would it be and why?
I would say David Beckham; He is an excellent role model to youngsters. Despite his high profile celebrity status he is just an amazing talent. On the pitch he is 100% focused. You see him sweat and give everything like me on stage. Off the pitch he remains humble and uses his profile for positive courses to help others.
Jay Sean releases his Album My Way on 24th April 2008
Interview by Sunny Sahota