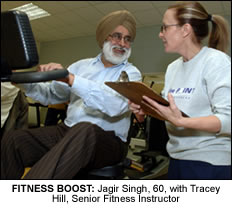 A NEW health initiative in Birmingham which allows the public to access free gym, fitness and swimming sessions is to be rolled out across the city following a fantastic response.
The city's 'Gym For Free' project was launched in the Ladywood area of the city last month at a cost of £500,000. In four weeks alone it has seen more than 2,000 people take up the service.
Heart of Birmingham Teaching Primary Care Trust, who launched the project, described the project as a "runaway success" and revealed plans to launch the service across the city in partnership with Birmingham City Council.
Kevin Haywood, Head of Public Health Programmes at the Trust, said: "We are absolutely delighted with the response from the community. We hope residents of all ages will continue to embrace this opportunity to improve their health and enhance their life expectancy."
 He added: "Ladywood was chosen for the pilot because we know it has high levels of childhood obesity and infant mortality, while male life expectancy in the ward is 72, compared with 79 in neighbouring areas."
 Ladywood constituency residents can enrol at Small Heath Leisure Centre, Nechells Community Sports Centre, Summerfield Community Centre and Newtown Pool and Fitness, and will then be able use any of Birmingham City Council's leisure sites.
 The project will see the Trusts' latest children's gym launched in Small Heath next month.