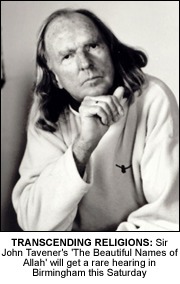 A WORLD renowned composer has drawn inspiration from the Muslim faith for a forthcoming concert in Birmingham.
Sir John Tavener, a Christian himself, has looked to the Muslim faith for inspiration for his recent major work The Beautiful Names of Allah, a musical setting of the 99 names of God as found in the Koran and the sayings of the Prophet Muhammad.
The piece will get a rare hearing and only its second UK performance at Birmingham's Town Hall this Saturday.
The 70-minute work was originally commissioned by HRH The Prince of Wales, reflecting his own keen interest in inter-faith dialogue to create mutual respect and spirituality. 
Nonetheless, the work created controversy at its world premiere in Westminster Cathedral last year, when fringe Catholic groups objected to its performance there.
"The Beautiful Names came to me as a vision," says Sir John Tavener, "I contemplated the meaning of each of the 99 names, as well as the sacred sound of the Arabic, and the music appeared to me spontaneously." 
The 99 names or attributes of Allah are central to Muslim devotion, used as a means to explore the spiritual power and attributes of the Divine. The work is divided into eleven groups of nine 'tonal zones' and the composer describes how, "the Divine names fall into two categories, those of majesty and those of mercy. Each set of 11 Names is separated by outbursts of the Supreme Name; Allah." 
For millions in the UK Sir John Tavener is best known as the composer of Song of Athene, the defining piece of music at the funeral of the Princess of. 
Though remaining devoutly Russian Orthodox, since 2001 much of his work has been inspired by his interest in the universalist theories of Fritjhof Schuon which embrace great religious traditions, with some of his more recent compositions setting Islamic, Hindu, Christian, Jewish and Sufi texts. 
John Tavener's 'The Beautiful Names of Allah'
Saturday 15 March, Town Hall, Birmingham