 Actress is still 'Miss Bollywood', says publicist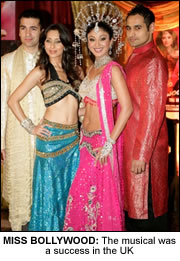 SHILPA Shetty has denied reports that she has been axed from the second run of her successful West End musical 'Miss Bollywood'.
A report in Indian tabloid Mumbai Mirror alleged that the show's promoter Farhath Hussain was set to replace the actress over differences on payment.
The tabloid said fellow Bollywood actresses Bipasha Basu, Priyanka Chopra or Lara Dutta were being considered to replace the Big Brother winner.
When contacted, Shilpa refused to comment on Farhath but said: "The musical has been a wonderful experience. I've been there, seen it and done it. I would love to do it again, but when I have the time and dates."

The actresses' publicist Dale Bhagwagar termed the talk about another actress stepping into Shilpa's shoes, as mere speculation.
"Shilpa Shetty is to 'Miss Bollywood' what Angelina Jolie is to Lara Croft", he said.  "Moreover, the license holders of the musical are Harris International in Dubai so there is no question of anyone else booting her out.
"There are no immediate plans for a second run only because Shilpa is going to be super busy with a whole lot of announced and unannounced films, endorsements and other assignments chalked out till mid-2009," he added.

M.S.Ajmal of Harris International confirmed: "After our run in Germany, UK and Holland, offers are constantly pouring in from Australia and the United States too for putting up shows of the musical.
"Ever since 'Big Brother' and Richard Gere happened to her, Shilpa is in great demand in all these countries and is looked upon as the face of contemporary Bollywood. But we haven't zeroed in on plans for a second innings yet."

So what about reports which suggest, Shilpa escalated her price after 'Miss Bollywood' became a roaring success, putting Farhath Hussain in a quandary?
Coming to her defence, Mr Bhagwagar added: "Shilpa is an extremely professional person and not the kind to trouble anyone. She's a rich girl and doesn't run after money. She's been lucky to always get what she deserves."

"In the last few months, while we witnessed a metamorphosis in Brand Shilpa from actress to diva, she has been offered astronomical unheard of amounts for certain film projects in Bollywood too. But Shilpa is choosing only those which will give her complete creative satisfaction," he summed up.