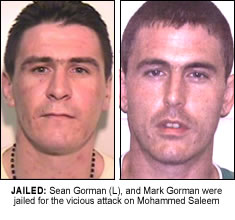 TWO BROTHERS who brutally attacked a man with a hammer has been jailed for a total of 12 years.
Sean Joseph Gorman, 25, and Mark Gorman, 23, originally from the Republic of Ireland, escaped to New York after the attack on Mohammed Salem but were brought back to face justice.
Sean Gorman was jailed for seven years at Manchester Crown Court, with Mark Gorman jailed for five years.
In an impact statement read out in court, Mohammed's sister said the assault had shattered her brother's life.
The court was told 27-year-old Mohammed Saleem was attacked on 3 August 2002 near to the Wheatsheaf pub in Broom Lane, Levenshulme, shortly after leaving his home to make a phone call to relatives in Pakistan.
In the attack Mr Saleem suffered a serious head injury and was in a critical condition for a number of weeks. He has since made a partial recovery, but continues to suffer from speech problems and, as a result of an impaired memory, the exact circumstances of the incident have always been unclear.
What is known is that at about 3am that morning as Mr Saleem left his home the Gorman brothers, whose parents held a tenancy at the Wheatsheaf pub, were holding an after hours drinking session while their parents were away on holiday.
Shortly after 4am, someone outside the pub smashed a pub window. A posse of four or five men, including the Gormans, shot up from their seats and went outside intent on catching whoever disturbed their drinking session.

Witnesses have described seeing the victim being repeatedly punched and kicked, while one man with an Irish accent was heard to shout a number of times, "Did you see when I put the hammer to his face?"

Sean Gorman was later found to have said that after beating the victim with a hammer.
Mark Gorman has now admitted punching and kicking the victim.

Nearby residents heard the attack and came out of their homes to find Mohammed lying unconscious and covered in blood. He was taken to Manchester Royal Infirmary where he began his long fight for life.
When officers arrived later that morning to investigate, Mark Gorman answered the pub door and told officers that they had 'chased him up Broom Lane and gave him a bit of a beating.'

Both Gormans were arrested and officers found a silver claw hammer hidden behind the bar of the pub.

They were both charged in connection with the offence in 2002, but skipped bail and travelled to the US via the Republic of Ireland and Spain.

In December 2007, GMP officers had travelled to the United States to bring back the men.
In an impact statement Mr Saleem's sister described how his personality has been irrevocably changed as a result of the attack.

She said: "Since the attack he has changed a lot. He gets angry very quickly. He does not joke anymore and gets up during the night scared and screaming "They are attacking me, I'm scared!"

"Now he struggles to speak and sometimes it takes him five minutes to complete a sentence, which he hates and gets angry about. He does not spend time with his friends and family anymore but prefers to spend time in his own room at his home.

"He used to actively take part in other's lives, helping and offering support. Now he hardly ever rings his brothers and parents in Pakistan.

"We feel like we have lost a brother. When we see him in this state we wonder whether he would be able to lead a normal happy life again."

Detective Constable Ian Shore, of Longsight CID, who led the extradition team to the US, said: "These brothers thought they had cheated justice, but, it has finally caught up with them.

"They beat a man half to death and were due to face trial for it. But rather than face a jury, they took the coward's way out and skipped bail and left the country.

"The victim's life has been shattered by what happened on the night of the attack. He has never been able to explain why they did this to him.

"He still suffers horribly over the memories from that night and he has a permanent speech impediment as a result. At least he now has the satisfaction of seeing these violent, ruthless men back where they belong – behind bars."