 Akhtar and Kaneria asked to explain comments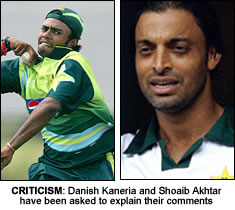 PAKISTAN bowlers Shoaib Akhtar and Danish Kaneria have been pulled up over remarks they made in the media over the Pakistan Cricket Boards allocation of central contracts.
Both players were notable casualties when the list was announced last month.
Kaneria was demoted from category B to C, while Akhtar was not included all together.
The PCB operate a tough line on any of its players making remarks to the media and have given the pair a week to explain their comments.
Kaneria accused the PCB of a lack of respect following his demotion.
In his column on bigstarcricket.com he said: "I have played 51 Tests now and once I pass Abdul Qadir's 236 Test wickets, hopefully this year, I will then only have the fast bowlers ahead of me – Waqar Younis, Imran Khan and Wasim Akram. I just feel that achievement deserves a bit more respect. I am respected more when I play at Essex.
"It is just an embarrassment for me and it pains me very much. I have spoken with the PCB but there does not seem to be any sign that my situation is going to change."
 Akhtar, who was only offered a retainership and told to work on his fitness, was equal in his voice of criticism.
"I was made a scapegoat after Pakistan lost the Test and ODI series in India," he said. "I bowled my heart out with 17 overs during the Bangalore Test just to hear that I was unfit and now, suddenly, the PCB considers me fit enough to lead a team in the Pentangular Cup.
"I wanted to play the ODI series against Zimbabwe for getting match practice but was dropped from the team on the flimsy pretext that I was unfit." He later questioned how a player who had barely played any cricket over the last few months could retain a category A contract, while others who had played were demoted. "It is all double standards," he concluded.