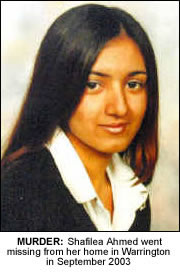 THE MURDER of teenager Shafilea Ahmed will feature on BBC's Crimewatch next week.
The decomposed body of the 17-year-old was found in Sedgwick, Cumbria by the River Kent five months after she went missing from her home in Warrington.
An inquest was held in January 2008 in Kendal in Cumbria, where Coroner Ian Smith recorded a verdict of "unlawful killing", saying he believed that Shafilea had been killed within hours of the last sighting of her in September 2003, and her body dumped by the river very soon afterwards.
No one has ever been charged in connection with her death.
Shafilea's parents, Iftikhar and Farzana, have always maintained their innocence over their daughter's death and have said they will challenge the Coroner's ruling.
Next week, BBC's Crimewatch will reconstruct the known last events in Shafilea's life in an attempt to find her killer.
Senior Investigating Officer, Superintendent Geraint Jones will join Kirsty Young in the Crimewatch studio to make a live appeal for information.
Supt Jones said: "It is now over four years since this investigation commenced. This remains the most tragic of cases. Shafilea's future was bright, and those who knew her had only praise for her. Any death is tragic, but Shafilea's unnecessary and cruel death is particularly sad."

"This remains a live murder enquiry. The investigation will never be closed until those responsible are brought to justice. This has been a huge investigation spanning many counties and countries. It has been lengthy, complex, and thorough. Every piece of information offered to the investigation team has been pursued to the end. It will not be closed until the killer or killers have been brought to justice."

"There is someone out there who knows what happened to Shafilea and has not told us. If you have information that could help find Shafilea's killer I appeal to you to contact us now. Now is the time to come forward and help bring to justice the killer or killers of Shafilea Ahmed."

An intelligent and popular girl, Shafilea wanted to be a lawyer, and was studying hard to achieve her ambition, her inquest was told. 
Coroner Ian Smith heard evidence from Shafilea's teachers and friends, describing a hard working, diligent, and conscientious student, and a loyal and good friend with a lively sense of humour.

Information can be offered to the Murder Incident Room on 0845 458 0000, or anonymously on the Crimestoppers hotline, 0800 555 111. Following the broadcast, information can also be offered via the Crimewatch studio number.
Related Articles: