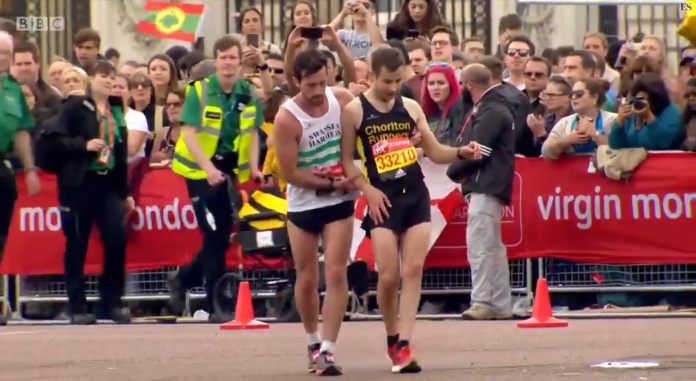 Last weekend saw the London Marathon take place, a 26.2 mile long course that began in Greenwich Park and ended at St. James's Palace.
Amidst the moments of physical triumph, charity celebrations and more, was one heart-warming instant when 35-year-old David Wyeth, who nearly collapsed on the final leg of the run, was helped across the finish line by a fellow runner.
Wyeth, who was running in memory of his late uncle, began to struggle and flounder a mere 200 yards away from the finish line when 29-year-old Matthew Rees came to his aid, stopping his own race to help Wyeth to his feet. Struggling to stand, Wyeth's legs can be seen wobbling.
Propped up by a marshal and Rees, Wyeth was able to cross the finish line. Hundreds of spectators watched in awe as the two runners completed the marathon, with Rees shouting encouragement. After crossing the line outside Buckingham Palace, Wyeth promptly received medical attention.
Rees, who has been praised a hero, said, "I took the final corner thinking 'right, it's nearly done, time to sprint', and I saw this guy and his legs just crumbled below him.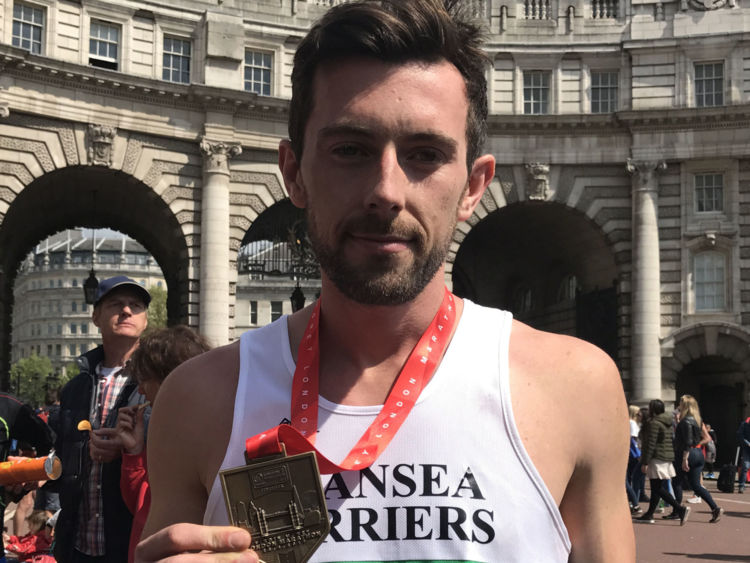 "I saw him try to stand up again and his legs just went down again, and I thought 'this is more important, getting him across the line is more important than shaving a few seconds off my time'.
"I went over to try and help him and every time he tried to get up he just fell down again and again, so I just tried to cheer him on, picked him up and said: 'Come on, we can do this'.
"He was really grateful, but he wasn't very coherent, he was just like 'I have to finish, I have to finish' and I said 'you will finish, you will get there, come on let's do this', but every time he tried to move he would just fall again so it was important to guide him."
Wyeth, of the Chorlton Runners and who is said to have meticulously prepared for the run, said he is still trying to figure out what went wrong. "For the last mile I knew I was not running in a straight line. I will be interested for the medical team to find out what went wrong. It was probably dehydration."
For the last mile I knew I was not running in a straight line…it was probably dehydration.
"I thought I'd been shown on a big screen somewhere. It wasn't until later I realised what had happened. I'm quite a private person so it was all a little strange."
On his JustGiving page, he wrote, "I'm overwhelmed by your messages of support and the kindness of strangers. Thank you so much for your concern, I'm recovering well."
Although he might have finished a little later than he would have liked, Wyeth also managed to raise more money than he could dreamed. The fundraiser's goal of £1000 was reached and what's more, skyrocketed up to £7000.