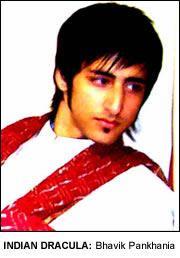 WE don't often go beyond the typical portrayal of Dracula in popular culture – all teeth and blood with a dash of grim seduction.
Is there really a need for another reworking of the popular text, or has it yielded all that it has to offer? In the school production presented by King Edward VI, in Five ways, Birmingham, rewritten and directed by Martin Drury, the modern interpretation of Dracula adds another dimension to the novel's meaning.
The casting of an Indian Dracula is intriguing and unfamiliar, particularly with the strong focus on his persistent presence in the play. The changing narrative takes on board a mixture of Eastern cultures, and combines the fear and attraction that a multicultural setting can sometimes hold. Here, the play's value as an entertaining and educational work becomes apparent.
Drawing on the novel's main themes, the play openly explores basic notions of gender and identity, moving through scenes with a crisp dialogue and a tense rapidity as we approach an unconventional climax.
The audience won't be disappointed with the talent displayed by participating students, and in particular Bhavik Pankhania, who plays the lead role of Dracula. Brought up in Hall Green, and finding himself exposed to a range of music and dance from a young age, he feels that the variety of performances add colour and weight to the production. "We were really able to fuse together so many creative elements from the West and East, but without making any particular routine look out of place," he said.
Reflecting on the unconfined set, he added: "Switching from traditional Victorian dress to exotic Indian clothing, you're breaking down the barriers of both time and culture. There's no better way of empowering a concept like multiculturalism than through dance in all its forms, which is something I've been interested in for a long time."
The production sees cast members, whose ages range from 12-18, take on a variety of challenging roles under the management of the school's cultural initiative "Sphere". In the case of Dracula, students are encouraged to see how exploring classic texts with a fresh outlook can enrich their perspectives on modern society.
Another student making his mark in the production is young Nishith Hegde.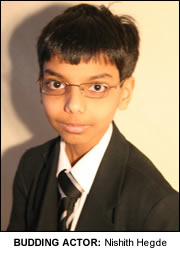 Nishith is quickly making a name for himself as something of an entertainment voyager. Since 17
th
January, his face has materialised twice weekly on the BBC's 'Evacuation: Manor House'; an historical re-enactment of the life of young evacuees in the Second World War. Currently marketed as the spotlight CBBC programme, 'Evacuation' required its cast members to successfully get through rigorous competition. Certainly, through this process and its result, Nishith has undoubtedly already shown his aptitude as a performer.
Nishith has much enthusiasm for this unconventional take on the Dracula mythos; "Drama has always appealed to me, and Sphere have taken this production to a new level. I'm thrilled to be here," he said. "This is a new experience for me; so I never know what to expect. But next week when we give our first performance, I'm sure audiences will love it. Everyone has been great."
Aiming to make the play and its message a far reaching enterprise, Dracula goes on tour in February, with performances in well-known multicultural venues such as Newhampton Arts Centre, Wolverhampton (01902 572090) on Friday 15th February, The MAC Theatre, Edgbaston (0121 440 3838) on Tuesday 19th February and The Drum, Aston (0121 333 2444) on Wednesday 27th February.
Elsewhere in the Midlands, you can see the play at: The Artrix, Bromsgrove (01527 577330) on Thursday 14th February, and The Rose, Kidderminster (01562 743745) on Thursday 21st and Friday 22nd February.
Please contact theatres for bookings. Tickets are priced at £7.50, £5.00 concession.