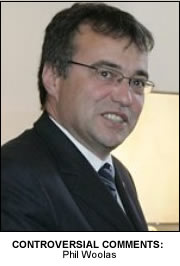 A BRITISH MP is facing growing calls to step down after his claims that Muslim 'inbreeding' in Britain is causing massive birth defects were met with heavy criticism.
Environment Minister Phil Woolas was accused of 'Islamphobia' after he warned of the problems of marrying between Pakistani first cousins.
The Muslim Public Affairs Committee (MPAC) called on Prime Minister Gordon Brown to sack the former race relations minister.
Speaking to the Sunday Times, Mr Woolas said: "If you have a child with your cousin the likelihood is there'll be a genetic problem.
"The issue we need to debate is first-cousin marriages, whereby a lot of arranged marriages are with first cousins, and that produces lots of genetic problems in terms of disability [in children]."
He added: "If you talk to any primary care worker they will tell you that levels of disability among the Pakistani population are higher than the general population.
"And everybody knows it's caused by first-cousin marriage.
"That's a cultural thing rather than a religious thing. It is not illegal in this country.
"The problem is that many of the parents themselves and many of the public spokespeople are themselves products of first-cousin marriages.
"It's very difficult for people to say, 'You can't do that' because it's a very sensitive, human thing."
But Asghar Bukhari of MPAC hit out at Mr Woolas saying his comments verged on "Islamphobia".
Mr Bukhari told BBC News: "After his comments, MPAC UK is asking will Prime Minister Gordon Brown back him or sack him.
Mr Bukhari added it was "bizarre" Mr Woolas has spoken about a sensitive health issue which has no relation to his environment brief, and accused him of ignoring links between pollution and birth defects.
While his comments have prompted a debate on the issue, some have come out in support of the comments.
Ann Cryer, MP for Keighley, said she was "delighted" Mr Woolas had raised the issue, while a number of comments on the MPAC website disagreed that Mr Woolas' comments were an attack on the Muslim community.