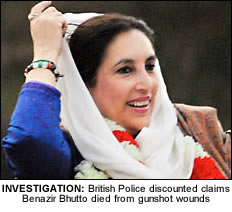 FORMER Pakistan leader Benazir Bhutto was not killed from a bullet wound, Scotland Yard have dramatically revealed.
British Police called in to help with the investigation amid speculation as to how the former Pakistan People's Party (PPP) leader was killed said she died from the force of the bomb blast.
A detailed report of her death is set to be presented to the Pakistani government and Ms Bhutto's family today.
The report, signed by Detective Superintendent John MacBrayne supports the theory put forward by the Pakistani government who said Ms Bhutto died after catching her head on the sunroof leaver of her car as the bomb exploded.
Many of her supporters accused the government of a cover-up.
PPP spokesperson Sherry Rehman told journalists then: "There was a clear bullet wound at the back of her neck. It went in one direction and came out another…My entire car is coated with her blood, my clothes, everybody – so she did not concuss her head against the sun roof."
And today she was in similar voice, insisting, "She died from a bullet injury, this was and is our position".
The report drew on the hospital X-rays of Ms Bhutto's head as the main source of evidence.
The report said: "Ms Bhutto's only apparent injury was a major trauma to the right side of the head. The UK experts all exclude this injury being an entry or exit wound as a result of gunshot.
"The possibility of a bullet wound to her mid or lower trunk can reasonably be excluded. This is based upon the protection afforded by the armoured vehicle in which she was travelling at the time of the attack, and the accounts of her family and hospital staff who examined her."
The UK government pathologist taking part in the investigation, Dr Nathaniel Cary, said: "The only tenable cause for the rapidly fatal head injury in this case is that it occurred as the result of impact due to the effects of the bomb-blast."
Dr Cary also said: "In my opinion Mohtarma Benazir Bhutto died as a result of a severe head injury sustained as a consequence of the bomb-blast and due to head impact somewhere in the escape hatch of the vehicle."