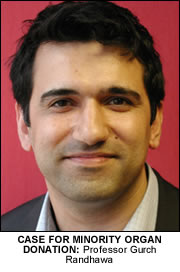 A HEALTH expert has today given evidence to a House of Lords' Inquiry to highlight the need to increase organ donation rates in black and Asian communities.
Professor Gurch Randhawa, Director of the Institute for Health Research at the University of Bedfordshire presented his research to the Lords' European Union Select Committee.
He identified barriers to organ donation in
African-Caribbean and South Asian communities and recommended action to be taken to increase transplant rates, to help save the lives of thousands of patients.
Professor Randhawa said: "Black and Asian people have a much greater chance of needing a kidney transplant than the general population, as they are more likely to develop kidney failure as a result of diabetes and high blood pressure.
"The need for organ donors from black and Asian communities is three to four times higher than the general population and donation rates are very low among people from these communities. The refusal rate for non-white potential donors is 69 per cent, compared with 35 per cent for potential white donors.
"Community leaders and religious groups need to engage with their local community to encourage organ donation and we need to identify what would make the 'gifting of organs' relevant to a multi-ethnic and multi-faith society."