 Akhtar vows return after central contract snub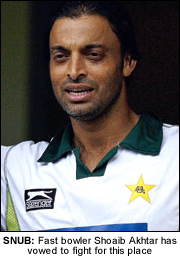 PAKISTAN fast bowler Shoaib Akhtar has vowed to fight for his place in the team after being snubbed a central contract by the Pakistan Cricket Board.
Akhtar was told last month he would not feature amongst 15 players awarded contracts based on performances over the last six months.
The PCB revealed Akhtar was overlooked because of a lack of fitness and was subsequently omitted from the squad that thrashed Zimbabwe 5-0.
Akhtar now faces an uphill task to be considered for Pakistan's forthcoming home series against world champions Australia.
But the fast bowler remains optimistic.
"Central contracts are not an issue because I play for my country and not for money," he said.
"I have no problems against the board for not giving me a contract. In fact, thinking of financial gains instead of putting the needs of my country first would've been a source of embarrassment on my part," he added.
"I turned up for my country when I was ill because I was required [during the Test series against India] and I will do so again whenever required. I'm fit, I'm strong and I'm ready to resume my international career with Pakistan with or without a contract."
He revealed he would take part in the forthcoming Pentangular Cup in order to prove his fitness and form.
"I will certainly take part [in the Pentangular Cup] and prove my fitness. I don't know what the fuss was about prior to the series [against Zimbabwe]. Omission from a squad is part and parcel of the game. Even Wasim Akram and Waqar Younis went through that phase. However, I wanted to play the series as it would've proved useful in preparing for the Australian series. They [the Australians] will not be easy to beat even though we will be playing at home."
Akhtar's current downfall seems to have stemmed from Pakistan's recent loss to India where a report by team manager Talat Ali allegedly criticised his lack of contribution made during the series.
Akhtar was also criticised following reports that he had secured a Bollywood film deal during the tour in India – a claim he has denied.
 "It's my life and I can do what I want. I don't know why the PCB is making a huge fuss of all this especially when I haven't even signed anything yet," he said adamantly. 
"For the moment it's cricket but I might think about a film career when it comes to it."