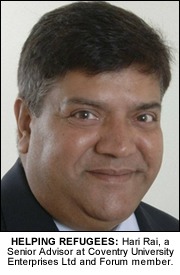 REFUGEES in Birmingham are being helped to set up in business and become entrepreneurs.
Action Enterprise is staging a series of seminars in which groups of refugees are being given advice on how they can set up their own businesses.
In a recent seminar in the Bordesley Green area of the city 15 people mainly from Somalia were given advice on preparing a business plan, accessing funding and international trade opportunities.
The West Midlands Minority Ethnic Business Forum – the strategic body that advises Advantage West Midlands, is supporting the initiative and Hari Rai, Senior Advisor at Coventry University Enterprises Ltd and Forum member was amongst the speakers at the seminar.
"In the West Midlands we have a large minority ethnic community and this provides a huge opportunity especially in the area of international trade. An understanding of overseas markets and cultural issues is a major factor in winning business," said Mr Rai.
"Too often there is a negative perception of refugees as an economic drain when in reality they can provide great opportunities to boost output and can be particularly effective in winning exports."
Adam Hersi of Action Enterprise, who organised the seminars and is also a Forum member said that in order to unlock the potential basic help was needed in key areas.
"The seminars focus upon issues such as providing an understanding of the support that is available, financial matters like raising investment as well as advice on overseas trade," he added.