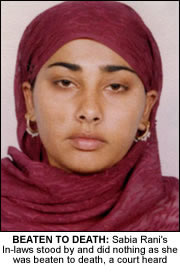 FOUR members of one family have today been found guilty of allowing a 19-year-old Pakistani bride to be beaten to death by her husband.
Sabia Rani endured three months of beatings by her husband Shahzad Khan eventually leading to her death in May 2006.
Khan was convicted and sentenced to life for her murder in January 2007.
But today, in the first case of its kind, his mother Phullan Bibi, 52, two sisters, Uzma Khan, 23, and Nazia Naureen, 28, and her husband Majid Hussain, 28, were found guilty at Leeds Crown Court for allowing her death.
As the guilty verdict was read out the women wailed in the dock before screaming "not guilty, not guilty".
The jury of five men and seven women were told to dismiss charges of perjury against Uzma Khan and Majid Hussain in relation to evidence they gave in the trial of Shahzad Khan last year.
Sabia was found dead in the bathroom of the Leeds home she shared with her husband and his family in May 2006, Leeds Crown Court heard.
The 19-year-old, who had arrived in Britain from Pakistan just months earlier, had been subjected to weeks of physical abuse.
Sabia suffered 10 broken ribs and bruising to more than 85 per cent of her body.
Professor Archibald Malcolm, a leading expert on bone fractures, who gave evidence during the trial, attributed the injuries her ribs to "hard kicks, stamps or very hard punches".
The pathologist deduced there were three "episodes" of fracturing, one around three weeks before her death, one about two weeks before and the other around 12 hours of less.
Simon Myerson QC, prosecuting told the court the victim's mother-in-law and a sister-in-law blamed the injuries on "evil spirits, curses and black magic".
He said: "There must have come a time when each defendant knew that Sabia Rani was ill and in pain. There must have come a time when they knew or suspected Shahzad Khan was the cause of her illness and pain. "They must have known what was happening was unlawful and carried a risk of further harm to her."
A spokesman for the CPS in West Yorkshire said the defendants were among the first people in the country to be convicted of allowing the death of a vulnerable adult.

Malcolm Taylor, of CPS West Yorkshire's Complex Casework Unit, said: "This is the first case in West Yorkshire and one of the very first cases in the whole of England and Wales where the provisions of the Domestic Violence Crime and Victims Act 2004 have been used after the death of a 'vulnerable adult'.

"The message must be that if families or other people with a duty to look after those who need protection deliberately choose not to do so, their neglect will not be ignored by the law enforcement agencies, and prosecution will follow."
Judge James Stewart QC will decide at a later date when to sentence the four defendants.