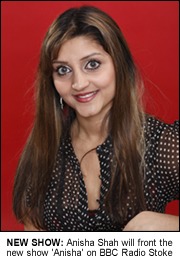 A NEW radio show for the Asian community in Stoke is gearing up for its first broadcast next week.
BBC Radio Stoke will air the 'Anisha' show on Monday between 7pm and 9pm with one of the stations hottest Asian talents at the helm.
Anisha Shah will head the new programme inviting listeners to join in and debate issues that affect their local community today.
The new-look programme will also mix topical debate with a rich blend of music, entertainment and lifestyle chat; spanning health, fashion, beauty, food & drink and reviews of the week's top news stories.
Looking ahead to the first programme, Anisha revealed she would definitely be having some "fun" on air.
"The show's a great concept as it's inclusive of all and meant for anybody who wants to find out more about the community in which they live," she said.
"At the same time it'll be a big personality show. Friendly, fun and feisty – that's what listeners can expect from me. Staffordshire and Cheshire are vibrant lively communities, with so many voices to be heard, I'm excited about delving in and expressing that passion and having some fun on air!"
Sue Owen, Editor, BBC Radio Stoke, said: "BBC Radio Stoke has broadcast a programme aimed at the Asian Community for many years and we think the time is right to refresh our offering. Anisha Shah is an experienced reporter and presenter and she's passionate about local life and issues which affect the diverse communities of North Staffordshire and South Cheshire. She's also a big music fan, so as well as tackling important subjects; 'ANISHA' will be great entertainment."
Anisha originally planned a career in Medicine, before getting a taste for working in the media. She started out doing part-time work for the BBC and has not looked back since! Anisha went on to study for her Post Graduate Diploma in Journalism at Highbury College in 2004 before realising her dream of becoming a reporter and presenter for BBC Radio Stoke in 2005. She can also be found working with TV cameras producing reports for the BBC's Video Nation initiative.
'ANISHA', presented by Anisha Shah, begins on Monday 21st January 2008 between 7pm and 9pm, broadcasting on 1503AM, DAB Digital Radio and online at
www.

bbc.co.uk/stoke
. Join in with comment and debate by contacting Anisha Shah at anisha.stoke@bbc.co.uk