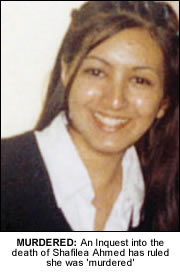 Teenager Shafilea Ahmed was 'murdered', the coroner heading her inquest has ruled.
Coroner Ian Smith told the inquest: "She was murdered. I'm convinced of that because of the way in which the body was disposed, it had been hidden and she had been taken many miles away from home."
The teenager went missing from her home in September 2003 months after she drank bleach during a trip to Pakistan where she was allegedly to have an arranged marriage.
Her body was discovered beside the River Kent at Sedgwick, Cumbria, in February 2004.
Mr Smith told the inquest he believed Shafilea died within hours of leaving work on September 11, 2003.
He said he could not state where she died but was "very confident" it was not on the river bank where her badly decomposed body was found.
"I do not believe she escaped and ran away. She was taken," he said.
Mr Smith described the teenager, who had a lifelong dream to become a lawyer, as a "frightened young women" as the concept of an arranged marriage to her cousin loomed over her head.
He said: "She (Shafilea) did not want to be married, full stop, at this point.
"She did not want to marry someone she did not know or may not like.
"She wanted to forge ahead with a career, she did not want to stop her studies and she did not want to live abroad.
"Rightly or wrongly, she feared all these things might happen."
Shafilea saw a planned family trip to Pakistan in February 2003 in which she feared she would be married as a threat to her future and the end of her freedom, Mr Smith said.
Mr Smith also hit out at Shafilea's mother, Farzana, who criticised the police investigation into her daughter's death when she was questioned yesterday.
Mrs Ahmed told the inquest she was "not happy at all" with the police investigation, adding: "Again and again they [the police] are blaming myself and my husband. I am not happy at all. They did not co-operate with us. If they had co-operated there is a possibility they might have found our daughter alive."
But Mr Smith criticised the Ahmed family saying the police did not have "total co-operation" from the family.
He added: "Shafilea was the victim of a very vile murder.
"I do not know who did it. There's no evidence before the court as to who did it.
"I sincerely hope in the future inquiries will be carried out by the police and they will one day discover who did it because this young woman has not had justice.
"Her ambition was to live her own life in her own way. To study, to follow a career in the law and to do what she wanted to do.
"These are just basic fundamental rights and they were denied to her."
Related Articles: