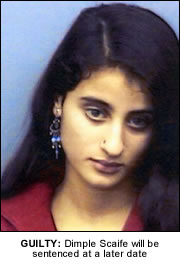 A WOMAN who stabbed her child's father through the heart in a jealous rage has been found guilty of murder.
Dimple Scaife, 18, of Leicester was found guilty at Leicester Crown Court of stabbing Jake MacKay through the heart in December 2006.
A 15-year-old girl, who cannot be named for legal reasons, was also charged with murder but was found not guilty.
During the five-week trial, Leicester Crown Court heard the relationship between Scaife and Mr Mackay had broken down even though they had an 18-month-old child together.
Armed with a kitchen knife Dimple arranged to meet Jake's new girlfriend outside the Spar Supermarket on Fosse Road South, Leicester, on 20 December 2006.
Mr Mackay went to Fosse Road South instead of his girlfriend and an argument ensued with the defendants which ended in the assault.
Mr Mackay received a stab wound to the chest and two to his back near his shoulder. He was taken to Leicester Royal Infirmary but died a short time later as a result of a puncture wound to the heart.
Scaife, who was 17 at the time of the murder, denied murder and had claimed she was provoked and acted in self defence. But the jury found her guilty unanimously.
Detective Superintendent Chris Thomas, who led the investigating team, said: "Dimple denied murder and said that she acted in self defence but there is no escaping the fact that she requested the meeting and she turned up with a kitchen knife.
"The moment she made the decision to leave the house with a knife she set in motion a chain of events which led to the tragic and untimely death of a young man.
Scaife will be sentenced next month.