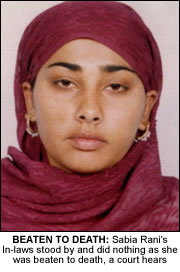 THE FAMILY of a man jailed for life a year ago for the brutal death of his wife, stood by and did nothing to help the young victim, a court has heard.
Sabia Rani was found dead in the bathroom of the Leeds home she shared with her husband, Shazad Khan, and his family in May 2006.
The 19-year-old, who had arrived in Britain from Pakistan just months earlier, had been subjected to weeks of physical abuse. Leeds Crown Court was told Sabia suffered 10 broken ribs and bruising to more than 85 per cent of her body.
Simon Myerson QC, prosecuting told the court that while her husband was convicted and jailed last year for Sabia's death, four of his family members were now on trial for failing to help her.
Khan's mother, Phullan Bibi, 52, sister Uzma Naureen Khan, 23, another sister Nazia Naureen, 28 and her husband Majid Hussain, 28, each deny allowing the death of a vulnerable adult.

Uzma Khan and Majid Hussain also deny perjury while giving evidence in Khan's defence at his trial last year.
Mr Myerson said the victim's mother-in-law and a sister-in-law blamed the injuries on "evil spirits, curses and black magic".
He told the court Sabia would have been in severe pain following a spate of attacks on her in the weeks prior to the final assault which is believed to have taken her life – yet she was never taken to see a doctor.
"The evidence is in the three weeks before her death it would have been apparent to anyone who saw her regularly that this girl was ill and in pain," he said.

The only medication she took to help ease the pain was paracetamol and codeine, the court heard.
Mr Myerson said because of the extensive bruising and tissue breakdown in her body she should have been receiving treatment in intensive care.

"There must have come a time when each defendant knew that Sabia Rani was ill and in pain. There must have come a time when they knew or suspected Shazad Khan was the cause of her illness and pain. They must have known what was happening was unlawful and carried a risk of further harm to her."
He added the prosecution would call medical evidence to show that Sabia had limited movement and able to crawl only a short distance before the final act of violence was inflicted on her.
He said it was likely that she killed downstairs and carried up to the bathroom where she was placed in the bath filly clothed.
The case continues.