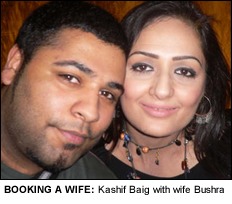 HE may not have become a bestselling author or a multimillionaire but writing a book brought 28-year-old Kashif Baig a different kind of wealth, his wife Bushra Kayani.
The Birmingham Legal Advisor and full-time law student began writing because he thought being a published author could make him a winner with the ladies.
"I was signing on at the job centre and had to justify what I was doing with my time. Soon after I started teaching and thought it would impress women if they thought I was a writer."
The book is based on his experiences teaching at various schools in and around Birmingham.
"My inspiration came from just watching the kids I taught – they say some of the strangest things – the logic they use for certain issues beggars belief and most of the time they are amusing!"

"Some days I would sit and write notes of my observations in my lessons! Shows how much teaching got done!"

The witty writer wrote his book "Confessions of a crap teacher" available from Amazon books, in a year and enjoyed the writing experience immensely.
"There were many points during writing the book where I just sat there laughing! Really I shouldn't be laughing at my own jokes!"

A light and humorous read, but at the same time looking at the serious issues that affect children in modern day state schools such as bullying, the part a child's socio-economic background plays in life at school and also relationships in school.
"Things have changed from when I was at school.– we were cheeky but no one would pull screwdrivers out and make threats to kill people!!!" said Kashif.
On receiving the first published copy of his book in 2004 through author house and on seeing his name embossed on the front cover, Kashif can recall that he felt really proud.
"I just wanted to bring it up in conversation to as many women as possible – "Excuse me… hmmm. hi, I wrote a book"
Having only sold over 100 copies, the big Paulo Coelho fan believes it was still worthwhile as he met a woman who worked in the office of a small criminal law firm one day and said "Excuse me… hmm hi, I wrote a book". 
"In true cheese-ball fashion I gave her a copy of my book to read which I just happened to have in my bag. Luckily she loved it, and thought I was the best and funniest human being alive."
After a month of charming and trying to impress Bushra, she finally asked for Kashif's number. 
"I had my own business card and always imagined taking my card out for hot ladies and saying something like  – "call me anytime, I'm available, 24 hours… babaay (baby)…" in a deep Barry White type of voice."
Married and joint at the hip since August 2006, the very much in love couple have set up home in Birmingham. 
 "My wife is older than me, of Iranian decent, part Pakistani, with a hint of Afghan! As you can perhaps imagine, my very Punjabi mother was well impressed! haha!"
He describes his wife as a proper lady, very prim and proper. On the couples Walima day, they found themselves making their entrance in front of 500 guests to the theme tune of superman, Bushra was most embarrassed, Kashif however was very amused.
"My advice to anyone who wants to try their luck as a writer is to keep writing – let the ink, you, your heart flow onto paper – who knows – it might actually be worth reading."
By Saima Daar