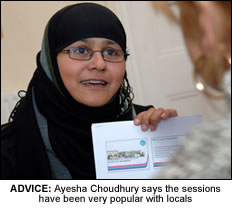 A BIRMINGHAM health partnership is to reinforce its campaign to reduce infant mortality with a range of advice centres across the city.
The Birmingham Health and Wellbeing Partnership has linked up with the Education, Development and Advisory Services (EDAS) Foundation to help with a range of children-related issues, as well as offering advice on a range of queries from housing and welfare benefits to debt and immigration in a number of areas where there is a high Asian population.
The project – financed by the Neighbourhood Renewal Fund – was launched just a few weeks ago, but already it is proving to be very popular with families and mums-to-be.
Ayesha Choudhury, an advice worker at EDAS, will be visiting children's centres in a number of Asian populated areas including Sparkhill, Sparkbrook, Springfield, Handsworth and Saltley.

She said: "The Partnership's focus is on reducing infant mortality so we are working with families with children under five and pregnant women. It is early days yet but we are very pleased with the reaction to our service."

Ayesha and her colleagues work with the Partnership's pregnancy outreach workers who offer support and health advice to pregnant women. She said: "If they find anyone who needs extra help regarding financial matters, the outreach workers refer them to us at the nearest children's centre. The outreach workers are very switched on to people's needs."

Ayesha has worked in advice services for over 20 years and brings a wealth of experience to the role. She said: "People's needs differ from area to area and we are asked about everything from bankruptcy and debt to housing and welfare benefits.

"We are rushed off our feet but we are never too busy to talk to people. And if someone can't get to one of the children's centres, they can ring me on 0787 0511972 between 4pm and 5pm weekdays, or leave a message at the EDAS Foundation on 0121 507 9903."