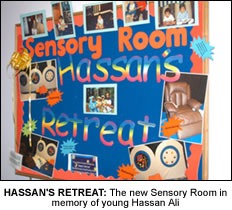 THE MEMORY of a City youngster who died a day before his third birthday will be kept alive at the Sure Start centre which he attended after they named a new room in his memory.
Young Hassan Ali never got to enjoy all the benefits at the Anthony Road Children Centre in Alum Rock, Birmingham, after passing away in his sleep just hours before he was due to celebrate his third birthday.
But countless of disabled children, including Hassan's twin sister Aisha, will now be able to benefit from a new sensory room named in his memory.
The room, named 'Hassan's Retreat' will help aid the development of disabled toddlers.
Hassan's parents, Shamim and Ghulan, and his 17-year-old sister Kiran officially opened the room at a special ceremony at the centre last month.
Following a special prayer, an emotional Shamim and Ghulan cut the ribbon to welcome youngsters into the new room.
Speaking to The Asian Today, Hassan's sister Kiran choked back the tears as she described her "happy" and "fun-loving" brother.
She said: "He wasn't like a normal kid. There were so many things that made him happy. "He loved anything with lights, watching TV and especially listening to nasheeds.
"He didn't have tantrums, or cry. He was a wonderful brother and we all miss him so much."
She said the family were overjoyed that the centre's new sensory room was named after Hassan.
"It was great for the centre to do this", she said. "When we came in we saw all the pictures of Hassan up on the wall outside the room and it brought back a lot of memories of him.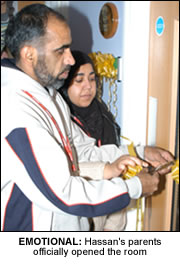 "The children that will use the room will benefit immensely and it's great to know that they will remember Hassan."
Nikki Rehman, who works at the Anthony Road Children Centre, said it took five years for the room to become a reality.
She said: "The sensory room has been a long project. I was employed here about 5 years ago and it was a thought in those days. Last year we had the go-ahead to use the room as a sensory room and it's taken me the best part of a year to organize everything for the room. It was designed to help children who have disabilities and to promote their skills in a different classroom setting. Unfortunately for Hassan the room came too late but his twin sister Aisha will hopefully benefit from the room."