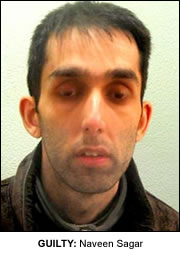 A LONDON lawyer who helped criminals create false alibis has been jailed for fourteen and a half years.
32-year-old Naveen Sagar pleaded guilty to two counts of perverting the course of justice and two counts of fraud.
Sagar was described by police as "very intelligent and astute" but also an "arrogant and cocky" person who believed he was "untouchable".
Kingston Crown Court heard how he represented a number of members of a London criminal network which is believed to have made millions of pounds through selling heroin and used firearms.
He regularly tipped off gang members of police activities, created false alibi's, and accused the police of being corrupt after recording and editing conversations.
When police searched his parent-shared Wembley home last February shortly after his arrest £85,000 was found under his bed.
Police also found an emergency services' radio scanner tuned into police channels.
Judge Fergus Mitchell said: "The public on the whole trust solicitors as do others in professional positions such as other lawyers and police.
"You undoubtedly contributed to a reduction in that confidence."
Sagar was arrested as part of Operation Pauldings, an inquiry launched nearly three years ago by the Central Task Force of the Metropolitan Police Serious and Organised Crime Command.
The operation has resulted in 35 arrests and nine convictions with seizures including four kilos of heroin, 280 rocks of crack cocaine, two Mac10 machine guns, five semi-automatic handguns, one revolver and 67 rounds of ammunition.
Police have also seized £300,000 in cash.
Other investigations linked to Pauldings have recovered a further ten kilos of cocaine, four handguns and ammunition.