 9-year-old follows in brother's footsteps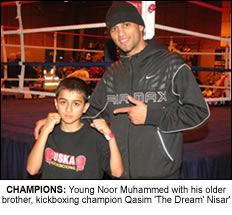 A NINE-year-old Birmingham boy has followed in his brother's footsteps and struck gold in kickboxing.
Young Noor Muhammed was crowed British champion at the ISKA British Championships held at the Cocksmoor Woods Leisure Centre in Kings Heath Birmingham earlier this month.
But he isn't the only champion to grace the family – his older brother Qasim 'The dream' Nisar has already cemented his place as one of the sport's most talented fighters with a host of titles already under his belt.
Noor, who takes the fighting name 'Nitro Noor', came through tough qualifying and tournament rounds on route to picking up his first National title win.
The youngster has trained at the USKA kickboxing club in Sparkhill Birmingham under the Instruction of Neil Kelly for the past three and a half years.
Noor was just one of a handful of youngsters who took eight medals back to the club after the Birmingham tournament.
Coach Neil Kelly said he was proud of all his fighters.
"The boys and girls once again did me and the USKA gym proud showing that they are the next generation of kickboxer's ready to break through onto the scene," he said. 
"They all performed superbly on the day and all are training hard in an attempt to qualify for the World Championships in the Czech Republic next year. On that form they all stand a very good chance of earning their place on the British team."