 Sikh star back in frame for England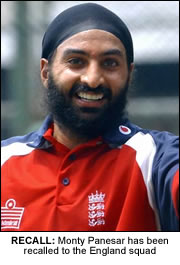 MONTY PANESAR will get a chance to cement his place in the England squad after a vote of confidence from coach Peter Moores for the forthcoming Test series against Sri Lanka.
Panesar was excluded from the one-day squad that played Sri Lanka by Graeme Swann who took the spinner's place.
But Panesar is back in the frame after backing from coach Moores.
"Certainly he is our No. 1 Test match spinner. You would expect him to do well over here," Moores said. "Monty has proved he is an outstanding Test match bowler, and has been over the last couple of years."
"Nothing against Graeme, because he has done well in the one-day games, but he still has stuff to do," Moores added. "He has a great opportunity because he showed in one-day cricket what an aggressive spinner he can be and at times we might play two.
"Monty has taken his wickets at 30 [runs] apiece, which is very good. He will be looking at this trip as a chance to keep that progression going. The one thing you can say about Monty is that he has grown a lot as a bowler in the last few Test matches."
The recall will come as a boost for Panesar who was recently criticised about his all-round game by recently-departed coach Duncan Fletcher.
But Panesar said he would continue to fight for his place.
He told the Daily Mirror: "I've been through these experiences before – it's not new to me. I remember when I was out for two years, not playing first class cricket. Even at Northampton I would get dropped. It happens. I've always been in that position. There's always been someone there – even when I was a youngster I wouldn't be an automatic choice to play.
"I'm used to being in these positions where I don't know if I'm going to play or not but I'll just keep giving myself the best chance.
"I could easily have given up in those two years I wasn't playing first-class cricket, when I thought my chance may not come or it may not happen.
"But you just keep persevering, keep staying patient, and you gradually think your chance will come if you keep doing that. That's the way I try and do things."
England play two three-day warm-up games in Colombo before the first Test starts in Kandy on December 1.