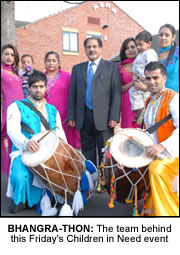 ORGAINISERS of a marathon dance session are urging charitable Brummies to get involved in aid of Children in Need.
The 12-hour 'Bhangra-thon' will take place at the ASRA Building in Smethwick this Friday to raise funds for the BBC spectacular Children in Need.
The event, which is open to all ages, will run from 10am to 10pm.
Organisers said the event will promote the use of Bhangra dance as a form of exercise and keeping fit.
Funky Bhangra moves will be taught by Gabhru Panjab De, Hasdey Nachdey and Dhol playing will be led by Made of Music.
Organiser Maninder Kullar said response to the event had been phenomenal.
She said: "The event started off with two sisters thinking about Children in Need and wanting to do something different. We thought of getting our community involved and the Asian Culture too, so we came up with the idea of a 12-hour non stop Bhangra dancing.
"We mentioned the idea to a few mums and they were really excited so we had decided to hire The Asra building.
"We had initially planned the event for about 40 people but as more people got involved and word got round we realised the event would be bigger than we first imagined.
"We got in touch with local charity event organiser Bindi Sandhu who helped us get to where we are now."
The 12-hour Bhangra-thon is the first Children in Need event organised by Maninder but she is keen to continue the event in the years to come.
Participation in the Bhangra-thon will cost £2.50 and will be held on Friday 16th November 2007 from 10.00am – 10.00pm at the ASRA Building, Fenton Street, Smethwick.