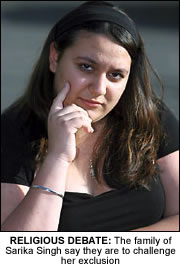 HUMAN rights group Liberty are to provide legal representation to the family of a Sikh pupil excluded from a South Wales school for wearing the Kara bracelet.
The family of 14-year-old Sarika Singh are to take their case to the High Court after Aberdare Girl's School suspended her for a week for wearing the religious bracelet.
When she returned to the school yesterday wearing the bracelet, she was excluded again prompting the family to begin legal action.
The only Sikh pupil at the school, she was accompanied by her mother, Sinita, and a representative from the Valleys Race Equality Council, an organisation supported financially by the Equalities and Human Rights Commission, when she returned to the school yesterday.
Anna Fairclough, Liberty's Legal Officer representing the Singhs, said: "The Governing Body of the school have ignored established race and equality protections and shamefully turned a young woman into a pariah by isolating her. Legal precedents established 25 years ago make clear that she should be allowed to wear the Kara without being intimidated by the school."

Sarika, of mixed Welsh/Punjabi origin, has been brought up in the Sikh faith and is the only Sikh at the Aberdare Girl's School. The school's uniform policy prohibits the wearing of any jewellery other than a wrist watch and plain ear studs.
When the school noticed that Singh was wearing the Kara, she was subsequently isolated throughout the day including meals for approximately two months. She had been banned from the school's physical education classes since May, despite her offer to remove or cover the Kara during PE.
Sarika herself said the bracelet was important to her because it is "a constant reminder to do good".
After her initial suspension the school defended their decision saying it was made after a "significant period of research" in which they looked into similar cases across the UK.
Related Articles: