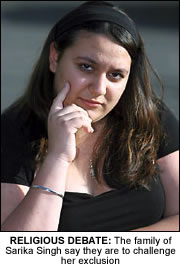 THE FAMILY of a 14-year-old Sikh girl excluded from her school for wearing the religious Kara bracelet are to seek legal advice.
Sarika Singh refused to remove the bracelet and was excluded from the Aberdare Girls School in South Wales as a result.
While the school maintained they had a strict uniform policy in place which prevents pupils from wearing any kind of religious symbols, Sarika's mother Anita said they would seek legal advice.
She said: "It's not jewellery, it's part of our faith and symbol of our belief.
"We feel very strongly that Sarika has a right to manifest her religion – she's not asking for anything big and flashy, she's not making a big fuss, she just wants a reminder of her religion."
She added she had a meeting with the school earlier this week and challenged the decision but to no avail.
Sarika herself said the bracelet was important to her because it is "a constant reminder to do good".
Jagtar Singh from the Sikh Federation UK, who are backing the youngster's case, accused the school of breaching the 1976 Race Relations Act.
He said: "The department for education and schools in England have said that if a head teacher or governing body were to deny a Sikh child one of their articles of faith such as the bangle then they would be breaking the law.
"If you are a practising Sikh, you have no choice, you have to have the Kara. It is the one symbol that virtually every single Sikh wears."
Ian Blake, chair of the school's governing body said the decision not to allow Sarika to wear the Kara was made after a "significant period of research".
He said: "The fact remains the code has to be upheld and we made our decision only after a significant period of research into previous cases across the UK, interrogation of the law, including human rights and race relations legislation and seeking legal guidance from the Local Education Authority."