 Kash 'The Flash'Gill gears up for Brum fight night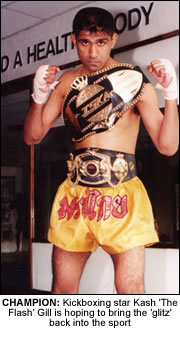 ONE OF Birmingham's well-loved sportsmen is hoping to bring the excitement of kickboxing back to the city with star-studded fight night later this month.
Kash' The Flash' Gill, a four-time World Kickboxing champion, declared it was high time the sport returned to its former glory in Birmingham as he announced the 25th November show.
The show will feature some of Birmingham's brightest up-and-coming talents as well as established kickboxers who train under the guidance of Kash.
The Birmingham central Hall event is expected to be a sell-out and Kash said he aimed to bring back the kickboxing glory days he enjoyed when he was at the top of the sport.
"
For too long now kickboxing both in this country and abroad has had to play second string to other combat sports, and has lacked quality promotion," he said.
"I aim to bring the glitz and the splendour back to what is an exciting sport.
"When I was fighting I fought on some very big shows and it's high time the like of those shows returned to Birmingham, and I can't think of any better place to showcase them.
"I am looking forward to the night, it's shaping up to be something special, and one to remember, hopefully raising the bench mark and public awareness of our sport. We are looking to provide real quality, a spectacular convenient location and of course a value for money night out the whole family can enjoy."
The night will prove to be a big night for Kash and the fighters themselves.
Heading the event will be Handsworth's own W.U.M.A World Champion Sunny "The Hit Man" Hira who will be hoping to unify his World Crown by adding the I.S.K.A. 57kg Featherweight Title.
The 23-year-old is somewhat of a protégé of Kash's after joining the former world champion's community kickboxing sessions in Handsworth when he was just 10.
Other fighters expected on the night include two-times European Champion Tyler "The Steppin Razor" Shakespeare from Erdington who will contest the Jnr Middleweight World Title, and Simon "Mr KO" Akufo from Rowley Regis who is hoping to become the I.S.K.A. European Welterweight Champion.
Tickets are available from Cimac Martial Arts, Lichfield Road, Aston, 0121 327 8880 and BCS, Lower Essex St, Digbeth 0121 622 2669.