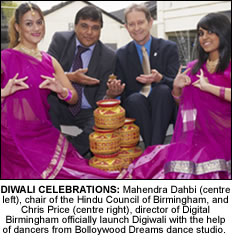 DIWALI in Birmingham will get blasted into the digital age this November as Digital Birmingham and the Hindu Council of Birmingham launch Digiwali.
As part of this year's Max Mix Diwali celebrations, Digital Birmingham has teamed up with the award winning Renn & Thacker Partnership to create a ground breaking digital film. With light being the essence of the photographic image, the film provides a spectacularly fitting showcase to mark the celebrations of the Hindu festival of lights.
Sanjay Mistry, from the Hindu Council of Birmingham said "We have produced a very innovative interpretation of Diwali; the film incorporates light, fire, movement, dance and energy which is set to a brand new sound track. The film will be projected onto, possibly, the largest screen in the UK; the screen being 21x 9 metres in size. The work describes the fusion between East and West and encompasses the ambition of Diwali in a multi-cultural city".
The digital showcase will be projected onto Millennium Point and form part of the annual Diwali celebrations on 11 November.
The event marks the culmination of Birmingham's own "Festival of Lights" which will incorporate the switching on ceremony of the city's Christmas lights at Millennium Point on November 10th. The digital extravaganza will conclude with an explosive countdown to the event's finale and firework display.
Digiwali also marks the launch of the Diwali Memories Fair. The project aims to encourage members from the local Hindu, Sikh and Jain communities share their memories, objects and documents related to Diwali to build up the city archive.
Sanjay Mistry added "We want the public to bring along images, photographs, short films, documents, costumes or simply memories of their Diwali experiences to the event to be recorded in digital format. These memories will contribute to a film project, website and archive that celebrates Diwali. Through the use of technology we will be able can spread the true meaning of Diwali digitally to a local, but diverse community as well as sharing Birmingham's festivities with a global audience".
The Max Mix Diwali celebrations will be taking place at Millennium Point, Curzon Street, from 3-9pm on 11th November.