 Imtiaz Ali gears up for the release of JAB WE MET
In JAB WE MET Imtiaz Ali brings together the hottest young couple in Bollywood. The two Kapoor's – Kareena and Shahid – have been on the front pages of Bollywood's gossip columns for the past two months. While the state of their relationship seems to be making headline news, for Imtiaz Ali the imminent release of his next film seems to take top billing. We caught up with the long-haired director to find out how the film came about and whether the private lives of his two stars will have any bearing on the success of the film.
Tell us about your keenly awaited film, Jab We Met?
JWM is the story of two people who meet on a train. There is Aditya Kashyap – a disillusioned industrialist who is floating around without direction. And there is Geet Dhillon – a hyperactive, hyper-happy, hyper-romantic Sikhni who is going home to Bhatinda (Punjab). How this chance meeting leads to incidents and accidents in the splendor of an Indian journey and how this interaction changes the lives of both forever forms the basis of this sweet love story. 
What made you cast Shahid Kapoor and Kareena Kapoor?
Kareena was my first choice to play Geet. I had a feeling she would look very charming in the role and I was excited by the fact that she had never played anything like this before. It's only after I met Shahid that I realized how suited he was to the role. He is a young man with a mature brain and that what I was looking for in Aditya – a young man leading an older man's life.
I knew Shahid and Kareena had done three films together earlier. But I knew that those films were not based on relationships and romance. Those were mostly thrillers and comedies. It was a bonus for me that JAB WE MET would be their first love story together!
What were they like to work with?
The commitment and excitement from both of them was extraordinary. The shooting schedules were always tough but they were super-cool with anything and brought a lot of ease in the working. They gave all they had to this film – I love them for that. There were a lot of things that they need not have been involved with but they were – especially Shahid – just to help out.
Can you tell us a little about the music of JAB WE MET, which has met with a great response? Why Pritam?
There is an angle in the story to do with music. Aditya (Shahid) is a repressed musician. He could not fulfill his dream because of his commitments. This girl and this journey show him a time he had never seen. He is taken away from his pressures and his trapped desires – chiefly music – begin to emerge. And music comes into the film.
I can't find a single weak song in the album. The high point of the music here is variety. This has got to be among Pritam's best work to date. No wonder that the music has met with a phenomenal response!
What was the biggest challenge of making this film?
The journey. Because of which we had to shoot at various locations across the lengths and breadths of the country. I did not want to shoot this film in sets. I wanted it to look as real as possible. So the whole unit was like a circus carnival – travelling together, pitching tents, performing and then moving ahead. That's how we shot the film. In retrospect, that was the best part about our shooting as well.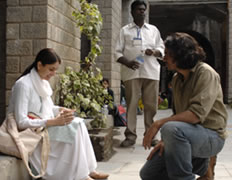 Who will Jab We Met appeal to?
The youth is the prime audience but the scope of the story is universal. A fun-filled musical romantic comedy is for all age-groups! Also, the film should charm the audience in the UK, US, UAE and other countries because it brings to them India in all its splendour. It is seeped in North Indian Punjabi culture.
What according to you makes a good film?
A great story that inspires everyone involved in the making to work better.
Who is your favourite filmmaker?
I have quite a few favourites actually. David Lean, Emir Kusturica, Bimal Roy, Pedro Almodovar, Vijay Anand, Akiro Kurusawa. 
What's your favourite movie of all time?
Sholay.
Who is your favourite singer and why?
Billy Joel. He seems to play exactly what I feel.
What is your biggest interest away from cinema?
Travelling.
What will you be working on next?
There are a few story ideas that I am developing for films. Aside of that I am trying to work out a small travel show for television or internet.
 Will JAB WE MET have a sequel?
 (Laughs) No.
You were to do a film with Sunny Deol after Socha Na Tha and another one with John Abraham. What happened to those?
 They are still in the pipeline. After this movie is out of my system, I will try to find out what happened to those.
There are speculations that Shahid Kapoor & Kareena Kapoor are keeping mum about their current relationship till JAB WE MET releases. Comment.
I think they want to keep their relationship private. It's got nothing to do with the film. 
JAB WE MET releases in the UK on October 26