 Pakistan star served legal notice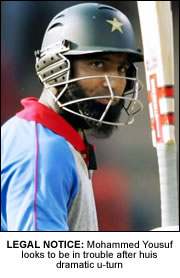 THE INDIAN Cricket League has served Pakistani batsman Mohammed Yousuf with a legal notice after he made a dramatic u-turn and cancelled his contract with them.
Yousuf had seemed to have turned his back on Pakistan when it was announced he had signed a contract with the new break-away league.
But in a dramatic twist last month, Yousuf declared he had changed his mind and would give his all to Pakistan.
The news however wasn't welcomed by Ashish Kaul, executive president of the ICL, who told Cricinfo they would not let Yousuf walk away that easily.
"We can confirm that we have indeed sent out a notice to Yousuf," he said.
"We have been trying to reach out to him and sent out three reminders to discuss some crucial issues after the Pakistan Cricket Board (PCB) clarified recently that Yousuf will not play in the ICL and make himself available for Pakistan."
Announcing the reason behind his u-turn, Yousuf said he was unaware ICL involvement would mean more loyalty to the league than Pakistan.
"Whatever I have achieved is because of my country and I am willing to do anything for Pakistan," Yousuf told Cricinfo. "I didn't know this clause in the ICL contract that priority had to be given to the league instead of Pakistan when international matches are happening simultaneously."
Responding to this, Kaul said that there was no such clause, and that if a clash of dates were to occur, the ICL would have accommodated it. Kaul said that efforts had been made to get in touch with Yousuf and clarify such comments.
The inaugural ICL – a Twenty20 tournament – is scheduled to begin next month.