 Inzy's farewell to the green and white of Pakistan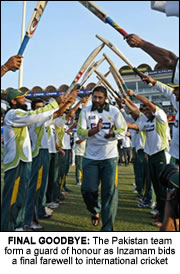 HE set the world alight as the baby-faced assassin who helped Pakistan land the 1992 World Cup crown, but last week Inzamam-ul-Haq bid a final farewell to the Pakistan team after 16 glorious years.
The 37-year-old took to the crease in the second test against South Africa in Lahore aiming to break Javed Miandad's 8,832 run record and become Pakistan's all-time leading Test scorer.
But while the fairytale ending never materialised after he fell just three runs short, one thing that can't be undone is the history of the player who undoubtedly lit up Pakistan cricket.
Looking back, Inzamam described his career with Pakistan as 'golden'.
"It is 16 golden years for me because I had lot of achievements and at the end of the day I am very happy," Inzamam said, adding, "My most memorable moment will be the 1992 World Cup. When we won, it was the happiest moment of my life."
And it was that World Cup against England at the Melbourne Cricket Ground in Australia that showed the world the big-hitting brilliance of the man from Multan.
His 60-run knock off 37 balls in the semi-final against New Zealand was made even more remarkable after it emerged Inzy had been nursing a stomach bug just hours before the match. His innings took Pakistan to the final where astute batting by captain Imran Khan and thunderous bowling from Wasim Akram gave Pakistan their first, and to date only, World Cup crown.
Quite fittingly then that those who shared in Inzy's joy that memorable night were the first to applaud his career.
"Inzamam's performance is part of history," former captain Javed Miandad said.
"He was a world-class player whose replacement will be hard to find in the near future. What matters is Inzamam's show of respect for me and his extraordinary demeanour in this era when jealousy and disrespect prevail," added Miandad, who played alongside Inzamam between 1991 and 1996.
"A player like Inzamam is only born in centuries and his performances were proof of that."
Fast bowler Wasim Akram, who himself has cemented his place as one of Pakistan's all-time greats, said Inzy was a 'treat to watch'.
"Inzamam was right up there. He may not be as consistent as Tendulkar or Lara but he matched them in class. The lazy elegance, the craft and the guile were all treats to watch," Akram said.
"Inzamam made his mark and became one of Pakistan's top batsman for nearly a decade. I was a great fan of his batting.
"He was famous around the world so I am sure he will be missed by the fans all over the world."
As captain, Inzy landed some of his most memorable series wins, notably against New Zealand in 2003, England in 2005 and a first series win on Indian soil in 19 years.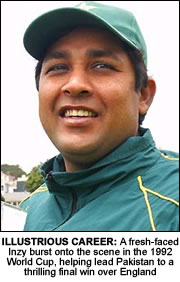 But like all cricketers, Inzy was human and his career didn't go quite without its low points. He failed to ignite in the next three tournaments and then came the 2007 tournament in the West Indies.
Failure to reach the super-eights was overshadowed by the sudden death of Bob Woolmer – a man who with Inzy had helped shape the young and youthful emergence of the new Pakistani team.
The tournament was to be Inzy's last, and the end of his captaincy. Humiliation at the tournament and the events surrounding the death of Bob Woolmer put an end to an illustrious career. He still maintained he would fight for his Test place but with the emergence of a younger more fresher team there was little hope.
His final appearance last week at the ground where he made his debut was a fitting end to a fitting career.
8,830 runs and 25 centuries in 120 Tests, in addition to 11,739 runs in one-day internationals say it all.
We'll just leave you with Inzy's final words…
""I would like to thank God that he gave me such a wonderful opportunity and when I leave I know I take with me 16 years of your love and affection and appreciation – I would like to thank all the people of Pakistan who supported me.
"I would also like to thank my Board that they gave me such a wonderful opportunity. I would also like to thank all the selectors who have selected me over the last 16 years.
"I would like to thank all my senior players who encouraged me and from whom I learnt a lot and who helped me a lot throughout my career.
"My captains, my seniors and my colleagues, I thank you all. I especially want to thank all those who played under my captaincy and gave me so much of respect and love."
Respect and love truly deserved, Inzy. Thank you.