 Jag Mundhra focuses on British Muslim community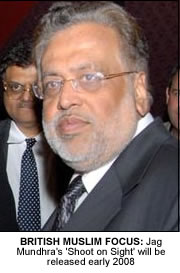 BOLLYWOOD director Jag Mundhra has revealed his next film focuses on the affects the 7/7 bombings had on the British Muslim community.
The veteran director who led an all-star cast in the true life film 'Provoked' a few months ago, told Reuters his film 'Shoot on Sight' follows the account of a Pakistani boy who is shot dead by police.
"My film is about the recent terrorist attacks in London," Mundhra told Reuters.
"In my film I show a Pakistani boy being killed because he looked like a terrorist."
Mundhra has assembled an impressive Indian and non-Indian cast for the film including British stars Brian Cox, Sadie Frost, and Laila Rouass.
Veteran character actor Naseeruddin Shah plays the central role of a British Muslim policeman, with Greta Scacchi as his wife.
The film presents Shah as a moderate Muslim who regularly prays at the mosque and who is married to a Christian. But worshippers at the mosque do not trust him because he is seen as part of the British establishment and the police turn him into a spokesman to show that that they are not targeting Muslims.
The film is expected to be released early next year.