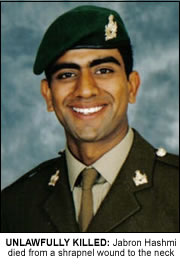 A BRTIISH Muslim solider who died during the conflict in Afghanistan was unlawfully killed.
The verdict on the death of L/Cpl Jabron Hashmi, from Bordesley Green, Birmingham was recorded at Oxford Coroners Court.
The 24-year-old died alongside colleague Cpl Peter Thorpe, during a rocket attack on a building on 1 July 2006.
Coroner Andrew Walker said the attack was "nothing short of murder".
The inquest heard the two soldiers were part of a 150-strong unit who had been involved in heavy fighting with Taleban fighters in the days prior to their deaths.
In the moment leading to their deaths a rocket blasted through a wall on an observation post in Sangin, Helmand Province, as a compound came under fire from Taleban fighters.
L/Cpl Hashmi was hit with flaying shrapnel and died almost instantly, the inquest heard.
The hearing was told he was not wearing body armour when the rocket hit, despite having direct orders to be wearing the protection. But it would not have saved his life, the hearing was told.
Forensic pathologist Dr Nicholas Hunt said L/Cpl Hashmi died from a shrapnel wound to the neck.
Pakistani born L/Cpl Hashmi had been in the army since 2004 and was posted to the Royal Signals in January 2006.
L/Cpl Hashmi's sisters accompanied their mother at the inquest yesterday. Coroner Mr Walker recorded verdicts of unlawful killing on both soldiers saying: "This was nothing short of murder."
He added: "That soldiers like Cpl Thorpe and L/Cpl Hashmi are prepared bravely and with consummate professionalism to face these type of threats with unthinking courage on a daily basis is a credit to the soldiers themselves, their unit and our armed forces.
"We can have nothing but admiration for the work they do."