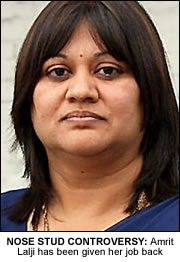 A HINDU woman sacked by a Heathrow airport catering company for wearing a nose stud has won her job back.
Amrit Lalji, 40, worked at Heathrow airport for caterers Eurest at the British Airways VIP Lounge before they dismissed her for wearing the nose stud last month.
Mrs Lalji, a mother of three, said she told her employers a number of times she wore the stud for religious reasons.
She even produced a letter from the Hindu community in Stanmore, north west London, where she lives, to support her case.
As a result she wore the nose stud for over a year before she was suspended and subsequently sacked after British Airways Lounge manager David Goodchild complained about the nose stud this summer.
But today she was reinstated after her employers admitted they had got the decision wrong.
A spokesperson for the Company said, "In the course of this research we have found that the rules relating to facial piercings are mandatory only in catering operations. Though this is not clear in the handbook, which is given to all employees, it is specific in the text of the Company's HR Directory, which is the primary source policy document.
"Since Mrs Lalji is not engaged in catering, her dismissal resulted from a misunderstanding of the rules and is therefore unjustified."
Tahir Bhatti, of the GMB Union who aided Mrs Lalji in her case said, "GMB is pleased to have been able to assist Mrs Lalji in this matter and welcomes Eurest's decision that she is reinstated in her position immediate and without detriment."
Related Articles