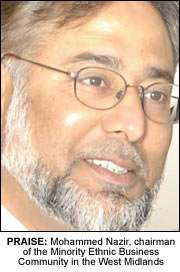 THE LEADER of the Minority Ethnic Business Community in the West Midlands believes a gala awards evening in the Black Country has helped to show what can be achieved.
Mohammad Nazir said the evening proved the Asian community could excel in businesses other than food or retail.
was commenting at the end of the annual presentation of awards by the Black Country Asian Business Association before an audience of more than 300 people at the Holiday Inn, Dunstall Park, Wolverhampton.
"The scope and diversity of all the winners shows that Minority Ethnic entrepreneurs can shine in a broad range of business sectors and not just those such as retail and food with which they are traditionally associated," said Mohammad Nazir, chairman of the West Midlands Minority Ethnic Business Forum.
"Overall winner Property Centre specialises in property letting and management, an area not commonly associated with the minority ethnic community. Likewise, another award winner Channel Punjab (UK) Limited is breaking new ground in the media, another sector not usually associated with minority ethnic entrepreneurs. The TV production company reaches out to people all over the world.
"I was particularly pleased to see Rosy Banger from Hadens Solicitors in Walsall taking the young entrepreneur award that was sponsored by our Forum. Rosy is an example that young people from minority ethnic backgrounds can make it in the professions.
"All to often minority ethnic businesses get pigeon holed into particular sectors and these awards play a part in helping to change outmoded perceptions and providing inspiration to the rising generation of young people who will have to step up to the plate as the indigenous population in our region ages."
The West Midlands Minority Ethnic Business Forum provides strategic advice to Advantage West Midlands – the regional development agency.