 Pakistan cricket in turmoil after latest spat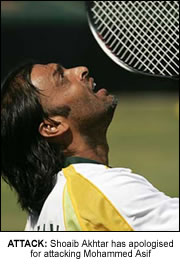 PAKISTAN-BOUND Shoaib Akhtar has apologised to team mate Mohammed Asif following a dressing room scuffle which led to the star being sent home from the ICC World Twenty20 tournament.
Akhtar, who was gearing up for his comeback in the tournament, allegedly hit fellow bowler Mohammed Asif with a bat after the two had exchanged words after a training session in South Africa.
PCB chairman Nasim Ashraf confirmed the player had been sent home and would not take part in the tournament.
Speaking to Indian news channel NDTV, Akhtar apologised for his actions and said he was hopeful of playing in next month's home series against South Africa.
"I'm human and made a mistake in the heat of the moment," Shoaib said.
 "Asif said something to me that made me lose my temper. I apologised to him, but I was very upset."
"I'm feeling bad that two minutes of temper have ruined my comeback. Sometime you do things in a fit of temper. I will explain the situation to everyone and apologise. I will address a press conference and apologise for my actions. I will try and make it back for the series against South Africa next month."
Akhtar's future within the team now remains uncertain. The PCB said they would be conducting a full inquiry into the incident after the tournament.
"When the team management returns [from the tournament], the board will launch a full investigation and disciplinary hearing into the matter. Further action based on that is likely," PCB Chairman Nasim Ashraf said.
Ashraf added the incident was "a blow not only to the team, but also to the image of the nation".
His exclusion from the team will undoubtedly hit Pakistan's preparation for the tournament. New coach Geoff Lawson had wanted his teams threat to come from the pace bowling trio of Akhtar, Umar Gul and Rao Iftikhar Anjum.
The dressing room spat is the latest of a long list of discipline issues to tarnish the player. Only last month Akhtar was told he was on six-month probation after he walked out of a training session in Karachi.